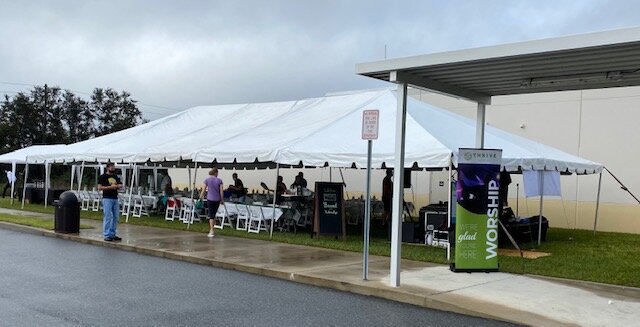 20 x 90 White Top Tent
Introducing our 20 x 90 White Top Tent, the perfect solution for all your outdoor event needs. This spacious and elegant tent is designed to provide a comfortable and stylish setting for any occasion.
With its generous dimensions of 20 feet by 90 feet, this tent offers ample space to accommodate large gatherings, such as weddings, corporate events, parties, and more. Whether you're hosting a formal affair or a casual get-together, this tent will create a memorable atmosphere that will impress your guests.
Crafted from high-quality materials, our White Top Tent is built to withstand various weather conditions, ensuring that your event can go on smoothly, rain or shine. The sturdy frame provides exceptional stability, while the durable white top adds a touch of sophistication and elegance.
Setting up this tent is quick and hassle-free, thanks to its user-friendly design. The modular structure allows for easy assembly and disassembly, making it convenient for transportation and storage. Additionally, the versatile layout of the tent allows for endless customization options, allowing you to create the perfect space for your event.
Safety is always a top priority, and our 20 x 90 White Top Tent is no exception. The tent is equipped with reinforced corners and secure anchoring options, ensuring that it remains securely in place throughout your event.
Upgrade your outdoor event experience with our 20 x 90 White Top Tent. Its spaciousness, durability, and elegant design make it the ideal choice for any occasion. Create unforgettable memories and impress your guests with this exceptional tent.