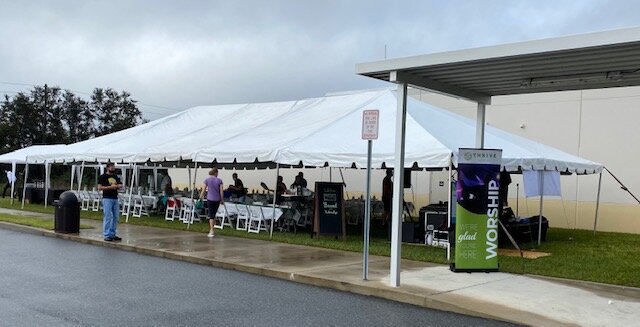 40 X 50 White Top Tent
Actual Size: 40 x 50
Age Group: All Ages




Introducing our 40 X 50 White Top Tent, the perfect solution for all your outdoor event needs. Whether you're hosting a wedding, party, or corporate gathering, this tent offers both style and functionality.
Crafted with high-quality materials, our tent is built to withstand various weather conditions, ensuring that your event will go on smoothly, rain or shine. The white top provides an elegant and sophisticated look, making it a versatile choice for any occasion.
Measuring 40 X 50 feet, this tent offers a spacious interior that can accommodate a large number of guests. The open design allows for flexible seating arrangements and easy movement, creating a comfortable and inviting atmosphere for your attendees.
Setting up our tent is a breeze, thanks to its user-friendly design. The sturdy frame and easy-to-follow instructions make assembly quick and hassle-free. Additionally, the tent is equipped with sidewalls that can be easily attached or detached, providing added privacy and protection from the elements.
Safety is our top priority, which is why our tent is engineered with reinforced corners and durable materials. This ensures stability and peace of mind, allowing you to focus on enjoying your event without any worries.
Invest in our 40 X 50 White Top Tent and elevate your outdoor events to the next level. With its stylish design, spacious interior, and easy setup, this tent is the perfect choice for creating memorable experiences for you and your guests.