Birthday party rentals are a wonderful way to show your kids that you care. Presents will come and go but birthday party rentals are memories that last a lifetime. Give them something to brag about and have fun with for their next birthday. We offer a large selection of bounce house rentals, water slide rentals, and themed birthday party rentals too. Are you ready to have some fun? Birthday party rentals are just the thing. We have them in all shapes, colors, and designs. Take a look around at the various selections.

We are located in Orlando and have been providing people with their party WOW factor for many years. It is our pleasure to go over the various options and costs with you should be a bit overwhelmed. We don't just do small birthday parties in the backyard, but also large events as well. The kids will love it and so will you!
Birthday Party Rentals
Birthday party rentals are perfect for small parties. Guests love bouncing on the rentals and your child will love it as well. These are perfect for small gatherings and we also offer tables, chairs, and tent rentals to make the party a complete success.

We love what we do and it shows! All of our rentals are maintained and cleaned after every use. We have everything state inspected and certified where needed and carry the proper business insurance for our operation. All you have to do is decide on the date and order up the rentals. We will arrive early to set up before your guests arrive. We want everything to be perfect for your big day! Everything is delivered right to the party location! You don't need to worry about a thing. Just don't forget the cake!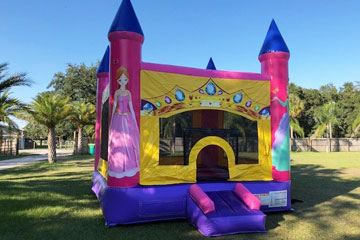 Birthday Princess Castle
Create the perfect princess birthday party when you rent our exciting Princess Castle bounce house. Large enough for all your royal guests.
Get Details Now!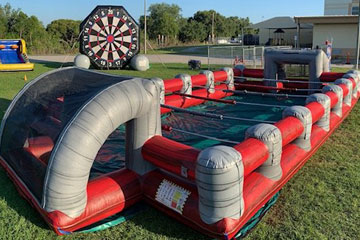 Inflatable Party Games
Florida Tents & Events has a great selection of party games to keep your entire crew entertained for hours. Great for all ages.
Get Details Now!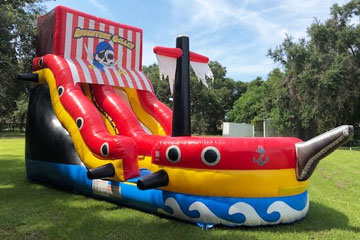 Giant Birthday Slide
Water slide rentals are a great choice for hot summer birthday parties with all your friends. Florida Tents & Events has a great selection.
Get Details Now!
Easy Birthday Party Ideas
Sit back and watch us do all the heavy work. We will be back around to pick it up when you are done. It is that simple. Get the party of your kid's lifetime right here at Florida Tents and Events. Florida Tents and Events is right here in sunny Orlando FL. We are a family-owned and operated company that has kids of our own. We understand family and we will treat you like family. Should you have any issues or concerns, give us a call. We are always just a phone call away.

Give them a day to remember with their very own birthday party rental. We carry lots of different birthday party rentals to choose from and will do all the hard work for you. If you have questions or concerns, give us a call and we will be happy to answer. We love a good party and it shows with all of the various options you have to choose from.

Water slides rentals make great birthday party rentals in Florida. Bet that Florida heat and give your child something they will never forget. Our water slide rentals will need electricity and water to operate. However, we can provide some extension cords, if that helps. Let your child have a birthday party they will never forget with our birthday party rentals today!