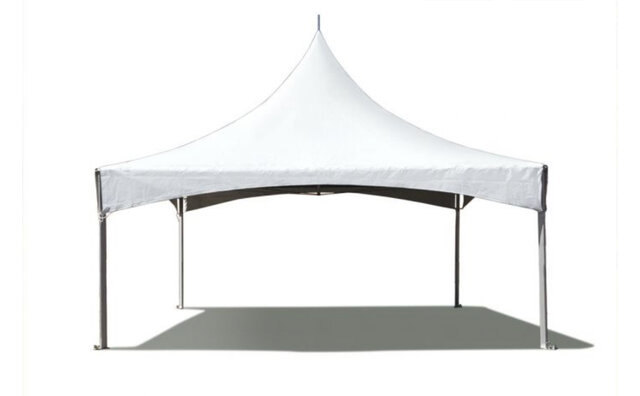 10 x 10 High Peak Tent
Actual Size: 10 x 10
Setup Area: 15 x 15
Age Group: all ages




10 X 10 High Peak Frame Tent
Elevate Your Outdoor Celebrations
Are you looking to add a touch of elegance and sophistication to your outdoor event? Look no further than our 10 x 10 High Peak Tent - the perfect choice for stand-up, cocktail-style parties, weddings, graduations, birthday celebrations, and more!
Unparalleled Aesthetics and Popularity:
Step away from the traditional tents and embrace the trend of high peak tents. Our 10 x 10 High Peak Tent offers a visually appealing design that sets it apart from ordinary event setups. Its soaring peak adds an air of grandeur, making it an instant attraction at any gathering.
Versatility for All Occasions:
Whether you're planning an intimate wedding, a joyful graduation party, or a stylish birthday celebration, this tent suits all occasions with its versatile size and elegant appearance. Create lasting memories under the canopy of our high peak tent!
Unmatched Durability and Stability:
Crafted with the highest quality materials, our 10 x 10 High Peak Tent ensures reliable performance in various weather conditions. The heavy-duty polyester material is not only waterproof but also UV resistant and fire retardant, guaranteeing the safety and comfort of your guests.
Ample Space and Headroom:
The spacious 10 x 10 dimensions provide ample room for your guests to mingle and enjoy the festivities. The high peak design offers generous headroom, allowing everyone to stand comfortably and relish the party atmosphere.
Lightweight and Easy Setup:
Transporting and setting up the tent is a breeze with its lightweight, sturdy aluminum frame. Our user-friendly design ensures a hassle-free assembly process, saving you time and effort for what truly matters - celebrating with your loved ones.
Create Your Dream Outdoor Event:
The 10 x 10 High Peak Tent is more than just a shelter; it's a canvas for your creativity. Customize the interior with beautiful décor, lighting, and furnishings to match your event's theme and ambiance. Watch as the tent transforms into a captivating setting that leaves your guests in awe.
Order Yours Today:
Elevate your upcoming outdoor celebration with the elegance and charm of our 10 x 10 High Peak Tent. Make a lasting impression on your guests with this striking centerpiece that exudes style and refinement. Get in touch with us today to reserve your tent and set the stage for a memorable and remarkable event!
Turn your outdoor gathering into an unforgettable experience with the 10 x 10 High Peak Frame Tent - the perfect choice for elegance and celebration. Reserve yours now!
Optional: Side wall Price $100 extra.
If your tent is not placed on grass, sand, or dirt it will require a water barrel to secure it down, at an additional cost. Please reach out to determine how many your tent may need.