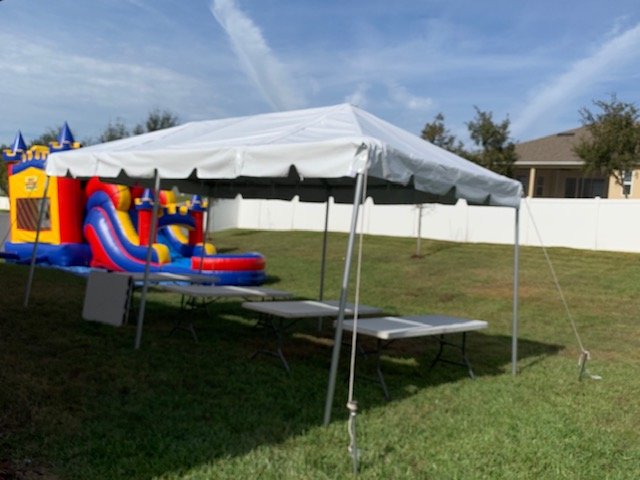 10 X 20 White Top Tent
Actual Size: 20 x 10
Setup Area: 25 x 15
Age Group: All Ages




Whether you are thinking about having a baby shower in the backyard or a community event, a white tent rental is something that many people are looking for. Our 10' x 20' White Top Tent Rental comes completely set up for you. We also offer tables and chairs rentals to go along with it, should you like. We can even tell you how many can fit under it with ease. Remember that not everyone with 10' x 20' White Top Tent Rental for their party or event is having the same time of the party. We have brought these out to huge inflatable carnivals as a place for people to gather and enjoy their concessions to the wedding parties that needed a shaded area for their guests. Whatever the reason, we are here for you. Many people think of us as the bounce house rental guys. While that is true, it isn't all that we do. We work with clients to throw parties, that's what we actually do. These parties come in all types, shapes, and sizes to meet the specific needs of that event. Whether you are having a community event that involves games and concessions to having an outdoor wedding we have everything you need right here at Florida's Tents and Events. We are happy to show you around as well as help you find what you are looking for. We have a huge warehouse chucked full of party rentals of all kinds. Don't be shy, ask if you don't see what you are looking for.
Hassle-Free Setup We understand that planning an event can be overwhelming. With our 10' x 20' White Top Tent Rental, we've got you covered. Our team will handle the complete setup, leaving you more time to focus on other essential event details.
Expert Party Planners While many know us for our bounce house rentals, our expertise goes far beyond that. We specialize in helping clients create unforgettable parties tailored to their specific requirements. Whatever your event vision, we have the experience and resources to bring it to life.
Reserve Your 10' x 20' White Top Tent Rental Today - Let's Create Unforgettable Memories!
Don't miss the chance to elevate your event to new heights. Book our 10' x 20' White Top Tent Rental from Florida's Tents and Events and create a captivating setting for cherished memories. Contact us now to secure your rental and embark on an extraordinary party-planning journey. Let's make your event an unforgettable celebration!