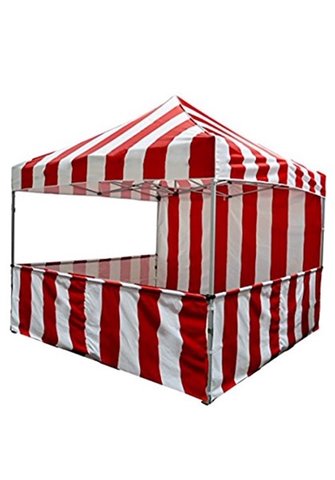 10 X 10 Carnival tent
10 X 10 Carnival Tent
Introducing the Ultimate Carnival Tent Rental for Your Next Event with Florida Tents and Events in Orlando, Florida!
Are you ready to transform your ordinary event into an extraordinary carnival extravaganza? Look no further! Florida Tents and Events brings you the perfect solution to set up the carnival of your dreams - the 10 x 10 Carnival Tent Rental!
Unleash the Magic of Carnival:
Picture this - the vibrant colors, the enticing smells of cotton candy and popcorn, the laughter of delighted children, and the joyous ambiance of a carnival in full swing. Our 10 x 10 Carnival Tent is the key to creating that magical atmosphere for your next event in Orlando, Florida.
Top-Quality and Versatile:
Crafted with top-quality materials, our Carnival Tent is sturdy and weather-resistant, ensuring a safe and reliable setup for your event. Its spacious 10 x 10 dimensions make it ideal for hosting various attractions and activities, making your carnival event a roaring success!
Endless Possibilities:
Bring your creative visions to life with our versatile Carnival Tent. From classic carnival games to exciting entertainment acts, this tent provides the perfect canvas to design an unforgettable experience. Whether it's ring toss games, balloon darts, face painting, or even hosting a live music band, this tent has you covered.
Easy Setup and Stress-Free Experience:
We understand the importance of a seamless event setup. With our professional team at Florida Tents and Events, you can leave all the worries to us. Our expert crew will handle the tent installation and ensure everything is in place, allowing you to focus on delivering an enjoyable carnival experience to your guests.
A Carnival for All Occasions:
Our 10 x 10 Carnival Tent is perfect for a wide range of occasions, including:
- Community and charity fundraisers
- Corporate events and team-building activities
- School carnivals and festivals
- Birthday parties and celebrations
- Church gatherings and picnics
Partner with the Best:
At Florida Tents and Events, we pride ourselves on delivering exceptional customer service and top-notch event solutions. Our team of professionals is dedicated to making your carnival event a grand success from start to finish.
Book Your Carnival Tent Today!
Don't let your next event be an ordinary affair. Embrace the spirit of joy, fun, and entertainment with our 10 x 10 Carnival Tent Rental from Florida Tents and Events in Orlando, Florida. Contact us now to reserve your tent and let the excitement begin!
*Note: For pricing, availability, and additional event services, please get in touch with our friendly customer support team.