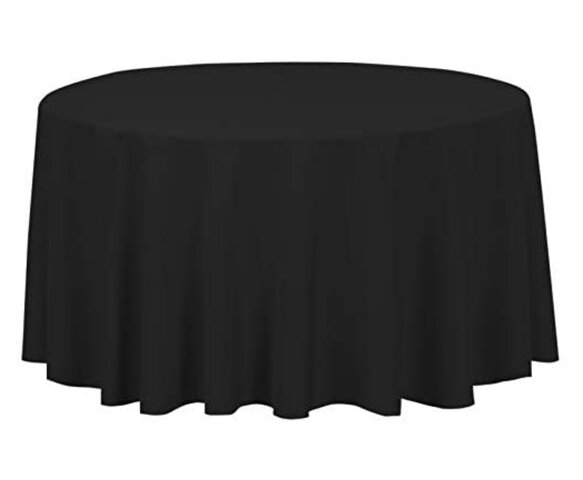 120 Inch Black Polyester Round Tablecloth
120" Black Polyester Round Tablecloth this Table seats 8 people.10
Introducing our 120 Inch Black Polyester Round Tablecloth, the perfect addition to your event or dining table. Made from high-quality polyester material, this tablecloth combines durability and elegance to enhance any setting.
With a generous 120-inch diameter, this tablecloth is designed to fit round tables up to 72 inches in diameter, providing a seamless and elegant look. The sleek black color adds a touch of sophistication to any occasion, whether it's a formal dinner party, wedding reception, or corporate event.
Crafted from premium polyester fabric, this tablecloth is not only wrinkle-resistant but also stain-resistant, making it easy to maintain and clean. Simply toss it in the washing machine after use, and it will be ready for your next event.
The black polyester material is also highly versatile, allowing you to pair it with any color scheme or theme. Whether you want to create a classic monochromatic look or add a bold contrast to your table setting, this tablecloth is the perfect choice.
Designed with both style and functionality in mind, our 120 Inch Black Polyester Round Tablecloth is a must-have for any event planner, restaurant owner, or home entertainer. Elevate your table decor with this elegant and durable tablecloth that will impress your guests and stand the test of time.