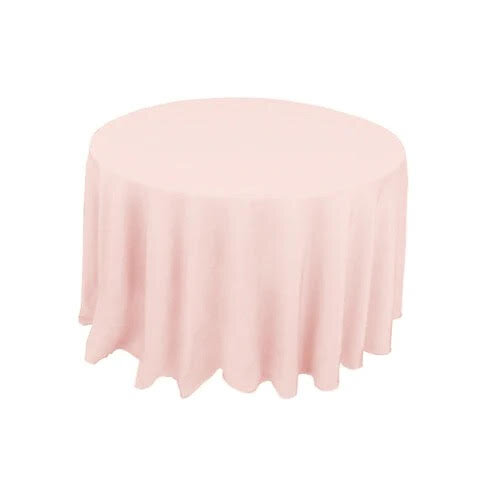 120 Inch Blush Polyester Round Tablecloth
Introducing our elegant and versatile 120 Inch Blush Polyester Round Tablecloth. Crafted with precision and style, this tablecloth is designed to elevate any event or dining experience.
Made from high-quality polyester fabric, this tablecloth offers exceptional durability and longevity. Its soft and smooth texture adds a touch of luxury to your table setting, while the blush color brings a subtle and romantic ambiance to any occasion.
Measuring 120 inches in diameter, this round tablecloth is perfect for large round tables, providing full coverage and a seamless look. It gracefully drapes over the edges, creating an elegant and polished appearance.
Whether you're hosting a wedding reception, a banquet, or a formal dinner party, this blush polyester tablecloth is a must-have. It effortlessly complements a variety of themes and color schemes, adding a sophisticated and refined touch to your decor.
Cleaning and maintenance are a breeze with this tablecloth. It is machine washable, allowing for easy removal of stains and spills. The high-quality polyester material resists wrinkles and creases, ensuring a pristine and flawless appearance every time.
Invest in our 120 Inch Blush Polyester Round Tablecloth and transform your dining experience into a memorable and stylish affair. With its exceptional quality, versatility, and timeless design, this tablecloth is a true reflection of elegance and sophistication.