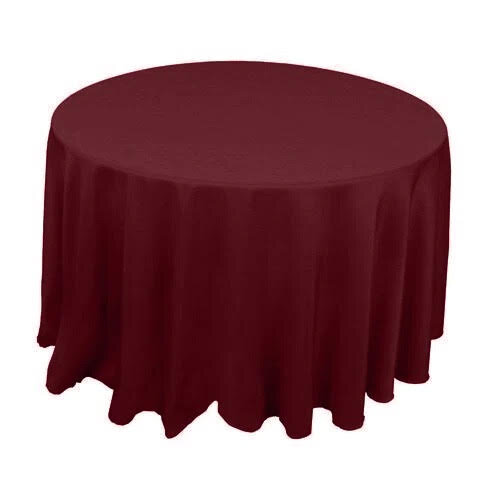 120 Inch Burgundy Polyester Round Tablecloth
Introducing our exquisite 120 Inch Burgundy Polyester Round Tablecloth, the perfect addition to elevate the elegance of any event or occasion. Crafted with utmost care and attention to detail, this tablecloth is designed to impress even the most discerning guests.
Made from high-quality polyester fabric, our Burgundy Round Tablecloth offers a luxurious feel and a lustrous sheen that adds a touch of sophistication to any table setting. The rich burgundy color exudes warmth and elegance, making it an ideal choice for weddings, banquets, formal dinners, and other special gatherings.
Measuring 120 inches in diameter, this tablecloth is perfectly sized to fit most round tables, providing a seamless and polished look. Its generous dimensions ensure that it drapes gracefully to the floor, creating an elegant and refined atmosphere.
Not only does our Burgundy Polyester Round Tablecloth enhance the aesthetic appeal of your table, but it also offers practical benefits. The polyester fabric is wrinkle-resistant, allowing for easy maintenance and ensuring a pristine appearance throughout your event. Additionally, it is machine washable, saving you valuable time and effort.
Whether you are hosting a grand celebration or an intimate gathering, our 120 Inch Burgundy Polyester Round Tablecloth is a must-have accessory to create a memorable and stylish ambiance. Add a touch of sophistication and elevate your event to new heights with this exquisite tablecloth.
Our exquisite 120 Inch Burgundy Polyester Round Tablecloth – a statement piece destined to elevate the elegance of any event or occasion. From the grandeur of weddings to the intimacy of family gatherings, this tablecloth is meticulously crafted to impress the most discerning guests, setting the stage for memorable moments. Picture a setting bathed in the warm glow of ambient lighting, with tables adorned in the regal richness of our Burgundy Round Tablecloth. Immerse your guests in an atmosphere of refined luxury, where every detail speaks of careful consideration.
The high-quality polyester fabric used in its creation not only provides a sumptuous feel but also boasts a lustrous sheen, adding an extra layer of sophistication to your table settings. The rich burgundy hue, carefully chosen for its timeless appeal, serves as the perfect canvas for various event themes. Whether you're aiming for classic elegance, vintage charm, or a modern aesthetic, the versatility of this tablecloth ensures that it effortlessly complements any décor scheme. Its 120-inch diameter is a masterstroke in design – an ideal size that fits most round tables flawlessly, creating a seamless and polished appearance.
The sheer dimensions of the tablecloth contribute to its graceful drape, gently cascading to the floor. This not only adds to the overall aesthetic but also creates an illusion of grandeur, transforming even the simplest tables into a focal point of elegance. The carefully considered proportions ensure that your guests will be greeted by a visually stunning arrangement from every angle. Beyond its visual appeal, our Burgundy Polyester Round Tablecloth is designed with practicality in mind. Polyester, known for its durability and easy maintenance, takes center stage in the construction of this tablecloth. Wrinkle-resistant by nature, it maintains a pristine appearance throughout the event, allowing you to focus on your guests rather than worrying about the table presentation. The convenience doesn't stop there – this tablecloth is machine washable. In the aftermath of a celebration, when time is of the essence, the ease of cleaning becomes a valuable asset. Simply toss it in the washing machine, and your tablecloth emerges as good as new, ready to grace future gatherings with the same elegance.