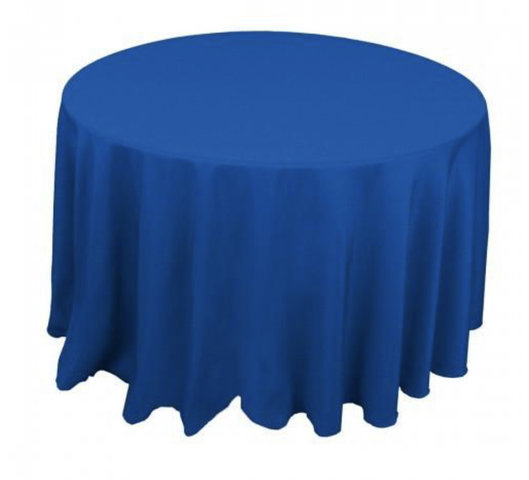 120 Inch Royal Blue Polyester Round Table Cloth
Introducing our elegant 120 Inch Royal Blue Polyester Round Table Cloth, the perfect addition to any event or special occasion. Crafted with utmost care and attention to detail, this tablecloth is designed to enhance the aesthetic appeal of your tables and create a sophisticated atmosphere.
Made from high-quality polyester fabric, this tablecloth is not only durable but also wrinkle-resistant, ensuring a seamless and polished look every time. The royal blue color adds a touch of regality and elegance, making it suitable for various themes and color schemes.
Measuring 120 inches in diameter, this round tablecloth is designed to fit most standard-sized round tables, providing full coverage and a neat, tailored appearance. Whether you're hosting a wedding reception, birthday party, or corporate event, this tablecloth will effortlessly elevate your decor.
Cleaning and maintenance are a breeze with this polyester tablecloth. Simply toss it in the washing machine on a gentle cycle, and it will come out looking as good as new. The colorfastness of the fabric ensures that the vibrant royal blue shade will remain intact even after multiple washes.
Invest in our 120 Inch Royal Blue Polyester Round Table Cloth and transform your tables into a stunning focal point. With its premium quality, versatile design, and easy maintenance, this tablecloth is a must-have for event planners, party hosts, and hospitality businesses. Create a memorable and visually appealing setting with this exquisite tablecloth.