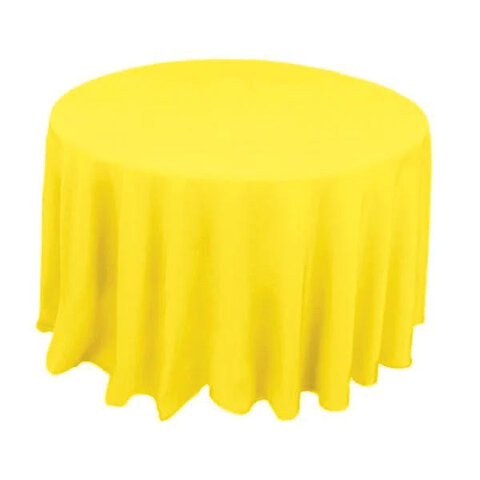 120 Inch Yellow Polyester Round Tablecloth
Introducing our 120 Inch Yellow Polyester Round Tablecloth, the perfect addition to any event or gathering! Made from high-quality polyester material, this tablecloth is not only durable but also adds a touch of elegance to your table setting.
The vibrant yellow color of this tablecloth is sure to brighten up any room and create a cheerful and inviting atmosphere. Whether you're hosting a birthday party, a wedding reception, or a corporate event, this tablecloth will surely impress your guests and make your table stand out.
Measuring 120 inches in diameter, this round tablecloth is designed to fit most standard-sized round tables. Its generous size ensures that it drapes beautifully over the table, providing a clean and polished look. The seamless design adds to its overall aesthetic appeal, giving your table a sleek and professional finish.
Not only is this tablecloth visually appealing, but it is also practical and easy to maintain. It is machine washable, making it convenient to clean and reuse for future events. The polyester material is resistant to wrinkles and stains, ensuring that your tablecloth stays looking fresh and vibrant even after multiple uses.
Invest in our 120 Inch Yellow Polyester Round Tablecloth and elevate your table setting to new heights. With its high-quality construction, stunning color, and easy maintenance, this tablecloth is a must-have for any event planner, party host, or hospitality professional. Create a memorable and visually stunning table arrangement with this exquisite tablecloth.