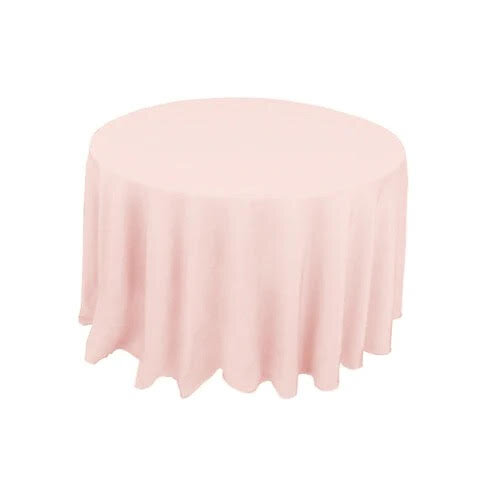 120 Inch Blush Polyester Round Tablecloth
Introducing our elegant and versatile 120 Inch Blush Polyester Round Tablecloth. Crafted with precision and style, this tablecloth is designed to elevate any event or dining experience.
Made from high-quality polyester fabric, this tablecloth offers exceptional durability and longevity. Its soft and smooth texture adds a touch of luxury to your table setting, while the blush color brings a subtle and romantic ambiance to any occasion.
Measuring 120 inches in diameter, this round tablecloth is perfect for large round tables, providing full coverage and a seamless look. It gracefully drapes over the edges, creating an elegant and polished appearance.
Whether you're hosting a wedding reception, a banquet, or a formal dinner party, this blush polyester tablecloth is a must-have. It effortlessly complements a variety of themes and color schemes, adding a sophisticated and refined touch to your decor.
Cleaning and maintenance are a breeze with this tablecloth. It is machine washable, allowing for easy removal of stains and spills. The high-quality polyester material resists wrinkles and creases, ensuring a pristine and flawless appearance every time.
Invest in our 120 Inch Blush Polyester Round Tablecloth and transform your dining experience into a memorable and stylish affair. With its exceptional quality, versatility, and timeless design, this tablecloth is a true reflection of elegance and sophistication.
This tablecloth is more than just a decor piece; it's a testament to quality and style. The high-grade polyester fabric ensures exceptional durability and longevity, making it a wise investment for those who seek both beauty and practicality. This material isn't just soft and smooth to the touch; it's a resilient shield against stains and spills, allowing you to entertain with ease and confidence. The blush color of this tablecloth transcends the ordinary, bringing a subtle yet captivating charm to any setting. Imagine the delicate blush tones seamlessly blending into various themes, enhancing the ambiance of weddings, banquets, and formal dinner parties alike.
The color palette is carefully chosen to evoke a sense of sophistication and warmth, creating an inviting atmosphere that captivates guests from the moment they enter the room. Measuring an impressive 120 inches in diameter, this round tablecloth is designed for larger round tables, ensuring a flawless and cohesive look. The generous size allows it to gracefully drape over the edges, transforming your table into a focal point of elegance. The seamless coverage not only enhances the visual appeal but also reflects an attention to detail that is essential for hosting memorable events.
Versatility is a hallmark of this tablecloth, effortlessly adapting to different occasions and color schemes. Whether you're aiming for a classic, vintage, or contemporary theme, the blush hue serves as a versatile canvas, allowing you to play with various decor elements. It's a neutral yet distinctive choice that stands out without overpowering, giving you the creative freedom to curate the perfect atmosphere for your guests. Maintenance becomes a stress-free affair with this tablecloth. The machine-washable feature ensures quick and efficient cleaning, while the high-quality polyester material resists wrinkles and creases. Picture a tablecloth that maintains its pristine appearance after every wash, ready to grace your table with a flawless and inviting allure for years to come.