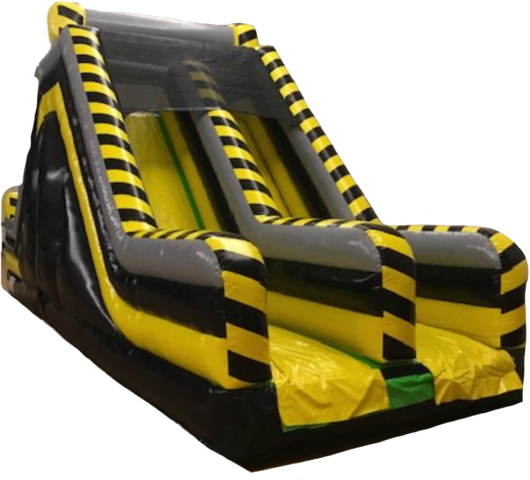 16 Foot Nuclear Rock Wall Slide
Actual Size: 30'x11'x16
Setup Area: 35'x16'x17
Outlets: 1
Age Group: All Ages
Attendants: 2




This fun and unique piece will entertain everyone for hours. The Rock wall back with a dual-lane slide is just the thing to be the center of attention. The Nuclear Rock Wall slide is perfect for those that are looking to have a great time. This is perfect for church events, community events, backyard BBQs, and more. If you are looking to add a bit of entertainment to your next party, the Nuclear Rock Wall slide is just the thing.
Take a moment and measure the area in which you will want us to deliver the Nuclear Rock Wall slide. Be sure that there is a good 4' path to the area and we like to avoid stairs and hills as much as possible. We do deliver all of our bounce houses and party inflatables as well as set them all. When they arrive, they will arrive clean and ready to go.
We take the time to sanitize everything when it comes back to the shop. Our guys inspect everything while inflating and deflating them . All of our inflatable units get top care, in order for them to be safe as well as looking their very best. We are professional party rentals that are here for you at any time. Should you have an issue or problem, knowing that we are just a phone call away can give our clients peace of mind. Hosting an event or party can be a daunting task, and choosing the right entertainment is crucial to its success.
The Nuclear Rock Wall slide appears to be an ideal solution for those seeking a memorable and enjoyable experience. Its dual-lane slide and rock wall back create a dynamic and engaging activity that will captivate participants of all ages. The inclusion of such a unique piece not only sets the event apart but also ensures that guests will be talking about it for hours after it concludes. The versatility of the Nuclear Rock Wall slide is worth emphasizing. Whether it's a community event that requires a show-stopping attraction or a casual backyard BBQ that needs an extra element of fun, this inflatable promises to be the center of attention.
The ability to cater to various occasions makes it a valuable addition to any event planner's arsenal. When considering the logistics of incorporating the Nuclear Rock Wall slide, the advice to measure the designated area and ensure a 4' path is not only practical but also demonstrates a commitment to a seamless setup process. By expressing a preference to avoid stairs and hills, the rental service is proactively addressing potential challenges, showcasing a level of foresight that event organizers will appreciate. The commitment to cleanliness and safety is paramount.
Knowing that the inflatable units are thoroughly sanitized after each use and undergo rigorous inspections during setup and takedown provides peace of mind to customers. This dedication to maintenance not only guarantees the safety of participants but also ensures that the Nuclear Rock Wall slide always looks its best, contributing to the overall aesthetic of the event.