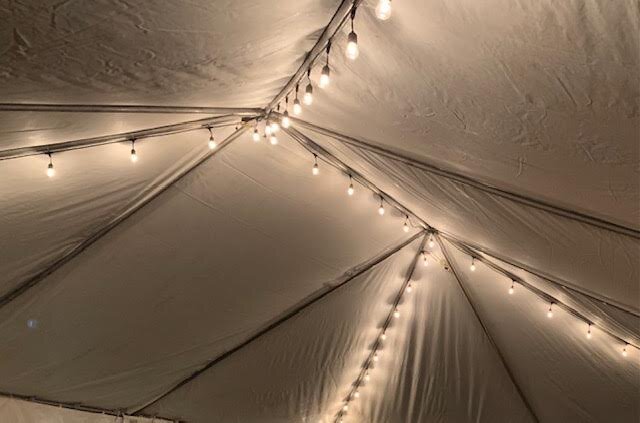 20 Feet Of Tent Lighting
Introducing our 20 Feet of Tent Lighting, the perfect addition to illuminate any outdoor event or gathering. This versatile lighting solution is designed specifically for tents, providing a warm and inviting ambiance that will enhance the overall atmosphere.
Featuring a 20-foot length, our tent lighting is long enough to cover a significant area, ensuring that every corner of your tent is well-lit. The lights are evenly spaced along the length, creating a beautiful and uniform illumination throughout.
Our tent lighting is easy to install, with a simple plug-and-play design that requires no complicated wiring or installation process. Simply hang the lights from the top of your tent using the included hooks, and plug them into a power source. It's that easy!
The lights themselves are made from high-quality materials, ensuring durability and longevity. They are weather-resistant, making them suitable for both indoor and outdoor use. Whether you're hosting a wedding reception, a corporate event, or a backyard party, our tent lighting will withstand the elements and provide reliable illumination.
With its soft and warm glow, our tent lighting creates a cozy and inviting atmosphere that will impress your guests. It's perfect for setting the mood and creating an unforgettable ambiance. Whether you want to create a romantic setting or a lively party atmosphere, our tent lighting is the perfect choice.
Don't let the darkness dampen your outdoor event. Illuminate your tent with our 20 Feet of Tent Lighting and create a magical and enchanting atmosphere that will leave a lasting impression on your guests. Order yours today and transform your tent into a captivating space!