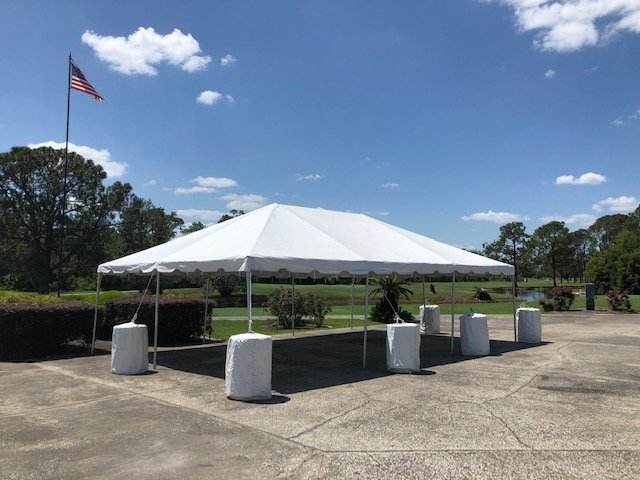 20 x 50 White Top Frame Tent
Introducing our 20 X 50 White Top Tent, the perfect solution for all your outdoor event needs. Whether you're hosting a wedding, party, or corporate gathering, this tent offers both style and functionality.
Crafted with high-quality materials, our tent is built to withstand various weather conditions, ensuring that your event will go on smoothly, rain or shine. The white top provides an elegant and sophisticated look, making it a versatile choice for any occasion.
Measuring 20 X 50 feet, this tent offers a spacious interior that can accommodate a large number of guests. The open design allows for flexible seating arrangements and easy movement, creating a comfortable and inviting atmosphere for your attendees.
Setting up our tent is a breeze, thanks to its user-friendly design. The sturdy frame and easy-to-follow instructions make assembly quick and hassle-free. Additionally, the tent is equipped with sidewalls that can be easily attached or detached, providing added privacy and protection from the elements.
Safety is our top priority, which is why our tent is engineered with reinforced corners and durable materials. This ensures stability and peace of mind, allowing you to focus on enjoying your event without any worries. Invest in our 20 X 50 White Top Tent and elevate your outdoor events to the next level.
Our commitment to excellence extends beyond the aesthetic appeal of our tent. We understand that every event is unique, and as such, we offer a range of customization options to cater to your specific needs. Whether you want to incorporate your company's branding, choose a different color scheme, or adjust the size to accommodate varying guest lists, our versatile tent can be tailored to match your vision.
The 20 X 50 White Top Tent is not just a practical shelter; it's a canvas for your creativity. Imagine the possibilities of transforming the blank canvas into a breathtaking venue that reflects your personal style or brand identity. The neutral white color serves as the perfect backdrop, allowing you to play with decorations, lighting, and themes to create the ambiance you desire.
To further enhance the ambiance, the tent is designed with ample height, allowing for the incorporation of stunning hanging decor, chandeliers, or lighting arrangements that can add a touch of magic to your event. This attention to detail in the design ensures that your event space is not only functional but also visually captivating.
Additionally, our tent is engineered with ventilation in mind, preventing the atmosphere inside from becoming stuffy. This consideration is especially crucial for events that may extend for long durations, ensuring the comfort of your guests throughout the celebration.
The sidewalls, while providing privacy and protection, also have strategically placed openings to facilitate airflow, creating a pleasant environment within the tent. Beyond its visual appeal and practical features, our 20 X 50 White Top Tent is a sound investment in terms of durability.
The frame is constructed from robust materials, and all components are rigorously tested to withstand the rigors of various weather conditions. Whether it's a sunny day, a sudden downpour, or a breezy evening, you can trust that our tent will provide a secure and stable shelter for your event. Furthermore, our commitment to customer satisfaction extends to post-purchase support. Our customer service team is available to assist with any inquiries or concerns you may have. We take pride in ensuring that our customers have a positive experience from the moment they consider our tent to well after their event has concluded.
In addition to our 20 X 50 White Top Tent, we also offer a range of complementary accessories to enhance your outdoor event experience. From flooring options to lighting solutions, we've got you covered. Our goal is to provide a one-stop solution for all your event needs, making the planning process as seamless as possible.
To further showcase the versatility of our tent, we have a gallery of past events where our tents have been utilized in various settings. Whether it's a romantic wedding reception, a vibrant birthday party, or a professional corporate event, our tent has proven to be the ideal backdrop for creating lasting memories.
We understand that purchasing a tent is a significant investment, and we want you to feel confident in your decision. That's why we offer a warranty on our tents, providing you with peace of mind and assurance in the durability and quality of our product.
When you choose our 20 X 50 White Top Tent, you're not just investing in a temporary structure; you're investing in the success of your event. We are dedicated to helping you create unforgettable experiences, and we look forward to being a part of your special occasions.
Thank you for considering our 20 X 50 White Top Tent for your outdoor events. If you have any questions or would like to discuss customization options, please don't hesitate to contact our friendly and knowledgeable team. We're here to turn your vision into reality.
If your tent is not placed on grass, sand, or dirt, it will require a water barrel to secure it down, at an additional cost. Please reach out to determine how many your tent may need.