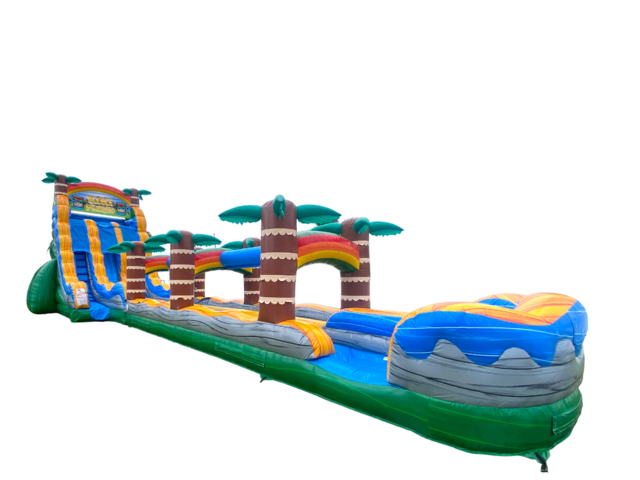 24 Ft Tall Tiki Double Waterslide With Slip and Slide
Setup Area: 63L x 18W X 24H
Outlets: 2
Age Group: All Ages




Tiki Double Waterslide with Slip and Slide Rental in Kissimmee, FL: Double the Fun and Adventure!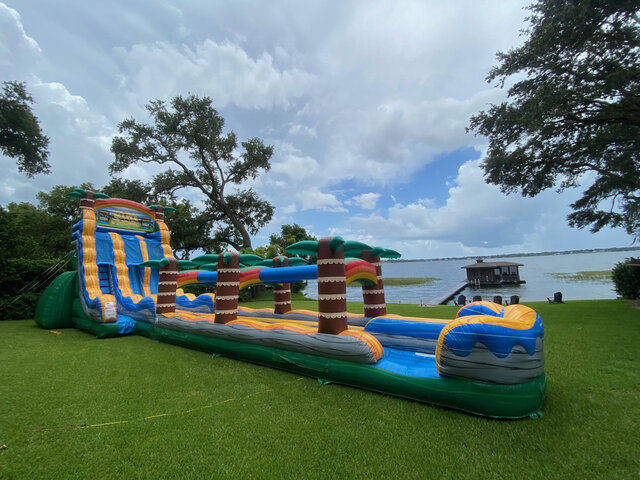 If you're looking for a fun-filled day with your family or friends in Kissimmee, Florida, you might want to consider renting the 24 ft tall tiki double waterslide with slip and slide rental. Made of commercial grade vinyl, this impressive water slide is designed with vibrant colors of oranges, blues, greens, and grey, creating a visually stunning experience. The highest point of the water slide is topped with inflatable palm trees, providing a tropical feel to the waterslide with slip and slide attraction.
Dual Lane Waterslide Kissimmee, Florida
One of the most exciting features of this waterslide is that it allows two riders at a time. This means you and a friend or family members can race each other to the end of the slide, adding an extra element of fun and competition. Each rider will climb the stairs to the top of the tiki water slide and then plummet down the waterslide, continuing along the slip and slide portion until they reach the end.
The slip and slide portion of the inflatable ride is also adorned with inflatable palm trees, spaced out along the length of the slide. This adds to the tropical feel of the attraction and enhances the overall experience. The commercial grade vinyl used to create this waterslide is durable and safe, ensuring that riders can enjoy the attraction without any worries.
Renting the 24' Dual Lane Waterslide in Kissimmee
The 24 ft tall Tiki double waterslide with slip and slide rental near Kissimmee, Florida, is an excellent attraction for anyone looking for a fun and thrilling day in Kissimmee, Florida. Its vibrant colors and inflatable palm trees make it visually appealing, while the ability to race against another rider adds an extra element of excitement. With its commercial grade vinyl construction, this waterslide is built to last, ensuring that you and your friends or family can enjoy it for hours on end.
Commonly Asked Questions About Kissimee Water Slide Rentals
Q: Does this 24' tiki waterslide rental come with a blower?
A: Yes, the Tiki Waterslide Rental comes with the necessary blowers. You will need to provide a power outlet for our setup crew.
Q: Does the water recirculate on this slide or do we need a constant water flow?
A: The water does not recirculate. You will need a water hose, connected to your water source, with a constant flow of water for this slide rental. However, the water does only need to be turned on to a very light flow. And, if you wish to turn it off to give it a break throughout your event you can certainly do so.
Q: Can this 24' double lane waterslide be used by children and adults?
A: Yes, the great thing about this slide is that it is user friendly for both children and adults. As long as a child can climb unattended, up the stairs, he or she is able to be a rider on this waterslide for rent.