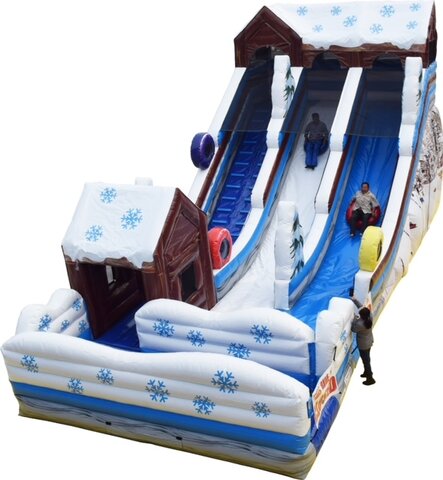 27 Dual Lane Christmas Tubing Slide
Actual Size: 45L x 20W x 27H
Outlets: 2
Age Group: all ages
Attendants: 1




Explore the Thrilling Adventure of Our Alpine Inflatable Tubing Slides!
Discover an exhilarating experience at Florida Tents and Events with our remarkable Alpine inflatable tubing slides, available now! Prepare for an adrenaline rush unlike any other as you embark on the grandest winter adventure imaginable.
Step into the world of excitement as you choose your tube at the slide's entrance. Hold on tightly as you ascend to the peak of this towering 27ft alpine slide. Once at the summit, anticipate the thrill as you nestle comfortably within your tube, ready to take the plunge into an arctic wonderland. Our 27ft tall Alpine inflatable slide sets the stage for the ultimate winter escapade, right in your very own backyard. Tailored for corporate gatherings, community festivities, or private affairs, elevate your event with an element of pure excitement!
Introducing the 72ft Alpine Tubing Double Lane Slide – a year-round delight suitable for both summer and winter revelry. Step into a realm reminiscent of the Alpine beauty as you embark on a journey that merges exhilaration and awe. Riders at the base grasp their tubes and begin their ascent to the pinnacle of the mountain-like structure. Upon reaching the peak, riders nestle into their tubes, embarking on a thrilling descent to the base.
The 27ft Alpine Inflatable Tubing Slide is the quintessential addition to any winter-themed event or festival you're envisioning. Elevate the ambiance further by incorporating our ice rink, completing the full winter immersion. Beyond catering to solo adventurers, the dual lanes guarantee twofold enjoyment. Engage in friendly competition as you challenge friends or colleagues to a riveting race down the slopes, each in their designated lane. Conquer the descent and become the master of the alpine slide, adding a captivating touch to your next company function or college gathering.
Don't miss out on the unparalleled excitement of our Alpine inflatable tubing slides. Your quest for adventure starts here at Florida Tents and Events. Get ready to redefine fun!