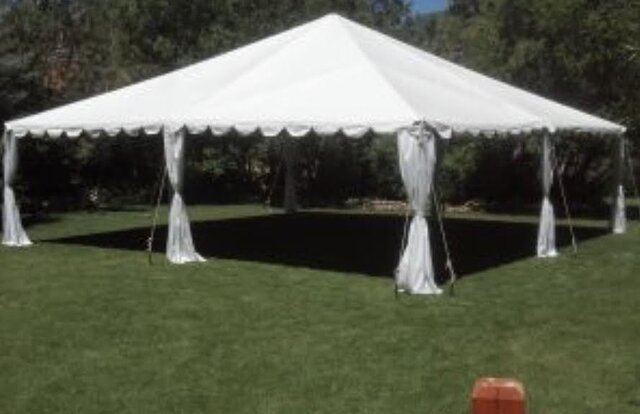 30 x 30 White Top Tent
Actual Size: 30 x 30
Setup Area: 35 x 35




If your tent is not placed on grass, sand, or dirt it will require a water barrel to secure it down, at an additional cost. Please reach out to determine how many your tent may need.
Introducing our 30 x 30 White Top Tent, the perfect solution for any outdoor event or gathering. With its spacious dimensions, this tent provides ample room for your guests to relax and enjoy themselves.
Crafted with high-quality materials, this tent is designed to withstand various weather conditions, ensuring your event goes off without a hitch. The white top adds an elegant touch, making it suitable for weddings, parties, corporate events, and more.
Setting up this tent is a breeze thanks to its user-friendly design. The sturdy frame provides excellent stability, while the included sidewalls offer additional protection and privacy. Whether you need shelter from the sun, rain, or wind, this tent has got you covered.
Not only is this tent functional and durable, but it also offers a versatile space that can be customized to suit your needs. From seating arrangements to decorations, you have the freedom to transform this tent into a personalized oasis that reflects your unique style.
Invest in our 30 x 30 White Top Tent and create unforgettable memories at your next outdoor event. With its exceptional quality and versatility, this tent is the ultimate choice for those seeking both style and functionality.