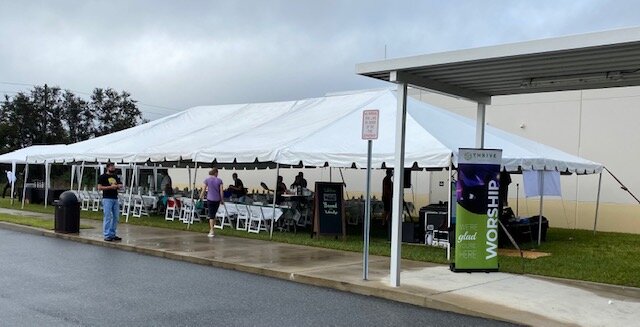 30 x 50 White Top Frame Tent
Actual Size: 30 x 50
Setup Area: 40 x 60




If your tent is not placed on grass, sand, or dirt it will require a water barrel to secure it down, at an additional cost. Please reach out to determine how many your tent may need.
Introducing our 30 x 50 White Top Frame Tent, the perfect solution for any outdoor event or gathering. This spacious and elegant tent provides a stunning setting while offering protection from the elements.
Constructed with a sturdy frame, this tent is designed to withstand various weather conditions, ensuring a reliable and durable structure. The white top adds a touch of sophistication and elegance, making it suitable for weddings, parties, corporate events, and more.
With dimensions of 30 x 50 feet, this tent offers ample space to accommodate a large number of guests. Whether you're hosting a formal dinner or setting up a dance floor, there's plenty of room for all your event needs. The high peak design not only adds visual appeal but also provides extra headroom, creating a comfortable and spacious atmosphere.
Setting up this tent is a breeze, thanks to its user-friendly frame design. No need to worry about complicated instructions or time-consuming assembly. Simply follow the straightforward steps, and you'll have your tent up and ready in no time.
To ensure the safety of your guests, our 30 x 50 White Top Frame Tent is engineered with high-quality materials and meets all industry standards. The tent is fire-resistant and UV-protected, offering peace of mind during your event.
Whether you're planning an outdoor wedding, hosting a corporate event, or organizing a backyard party, our 30 x 50 White Top Frame Tent is the perfect choice. Create a memorable and stylish atmosphere with this spacious and elegant tent.