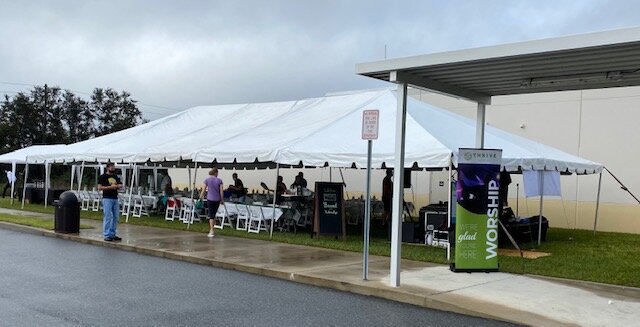 30 x 60 White Top Frame Tent
If your tent is not placed on grass, sand, or dirt it will require a water barrel to secure it down, at an additional cost. Please reach out to determine how many your tent may need.
Introducing our 30 x 60 White Top Frame Tent, the perfect solution for your outdoor events and gatherings. This spacious and elegant tent is designed to provide shelter and create a stunning atmosphere for any occasion.
With its sturdy frame and durable construction, our white top frame tent is built to withstand various weather conditions, ensuring that your event will go on smoothly, rain or shine. The 30 x 60 size offers ample space to accommodate a large number of guests, making it ideal for weddings, parties, corporate events, and more.
The white top not only adds a touch of sophistication but also allows for natural light to filter through, creating a bright and airy ambiance. Additionally, the white color provides a versatile canvas for you to decorate and personalize according to your theme or branding.
Setting up the tent is a breeze, thanks to its user-friendly design and included instructions. The frame structure eliminates the need for center poles, maximizing the usable space and allowing for flexible seating arrangements or event layouts. The tent can be securely anchored to the ground using stakes or weighted down with sandbags, ensuring stability throughout your event.
Safety is our top priority, which is why our 30 x 60 White Top Frame Tent is engineered with high-quality materials and meets industry standards. The fabric is fire-resistant and UV-protected, providing peace of mind for both you and your guests.
Whether you're hosting a wedding reception, trade show, or a backyard party, our 30 x 60 White Top Frame Tent offers a versatile and elegant solution. Create unforgettable memories and make a lasting impression with this spacious and stylish tent.