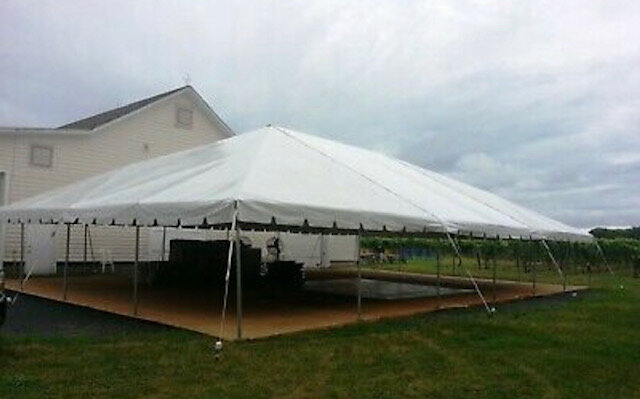 30 X 90 White Top Frame Tent
If your tent is not placed on grass, sand, or dirt it will require a water barrel to secure it down, at an additional cost. Please reach out to determine how many your tent may need.
Introducing our 30 X 90 White Top Frame Tent, the perfect solution for all your outdoor event needs. Whether you're hosting a wedding, corporate function, trade show, or any other special occasion, this tent offers a spacious and elegant setting that will impress your guests.
Constructed with a sturdy and durable frame, this tent provides a reliable shelter that can withstand various weather conditions. The white top adds a touch of sophistication and versatility, allowing you to easily customize the space to match your event theme or branding.
Measuring 30 feet by 90 feet, this tent offers an expansive area that can comfortably accommodate a large number of guests. The open layout allows for flexible seating arrangements, ensuring that everyone has a clear view of the main event or stage.
Setting up this tent is a breeze, thanks to its user-friendly design. The frame structure eliminates the need for center poles, maximizing the usable space inside. Additionally, the tent features adjustable side walls that can be opened or closed as needed, providing you with complete control over ventilation and privacy.
Safety is always a top priority, which is why our 30 X 90 White Top Frame Tent is engineered to meet the highest industry standards. The materials used are fire-resistant and UV-protected, ensuring a safe and comfortable environment for your guests.
Transportation and storage are made easy with this tent, as it can be disassembled and packed into compact bundles. This makes it convenient for event planners, rental companies, or anyone who needs a portable and reusable solution.
Invest in our 30 X 90 White Top Frame Tent and elevate your next event to new heights. With its spacious design, elegant aesthetics, and reliable construction, this tent is sure to leave a lasting impression on your guests.