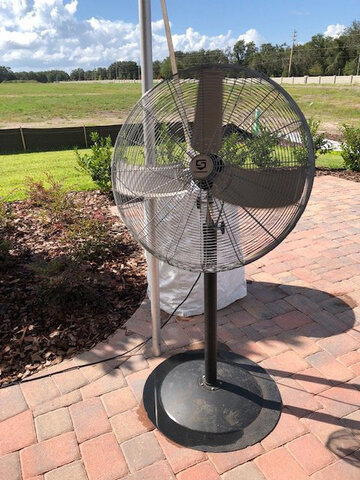 36 Inch Pedestal Fan
36 Inch Pedestal Fan Rental is perfect for those hot summer days that have no breeze. When you need a good breeze, why not rent a 36 Inch Pedestal Fan Rental? We work with clients to ensure that their parties are perfect. Here in Orlando, there is a hot Florida sun that we simply cannot escape. However, having a nice breeze can sometimes make it tolerable. This fan is 3 feet across and puts out a nice breeze. It is industrial strength and perfect for cooling off those around it. If you are having a party and want to ensure your guests are kept comfortable, then you should take a look at this 36" pedestal fan rental.
Our party rental company has been around for many years. In fact, we take pride in how long we have done business and how many repeat clients that we have. We aim to please and it shows as our repeat clients come back year after year. We work with clients to figure out what would work best for their situation. If you have a particular problem that you'd like us to help with, give us a call. We understand as your events grow and get popular, it can be hard to determine what to add for the next year. We are dedicated to the party rental industry and offer a huge selection to choose from for all sorts of different parties from carnivals to celebrations. Sometimes you may not need bounce house rentals but are looking for table and chair rentals for your next outdoor wedding. Look no further than Florida Tents and Events.