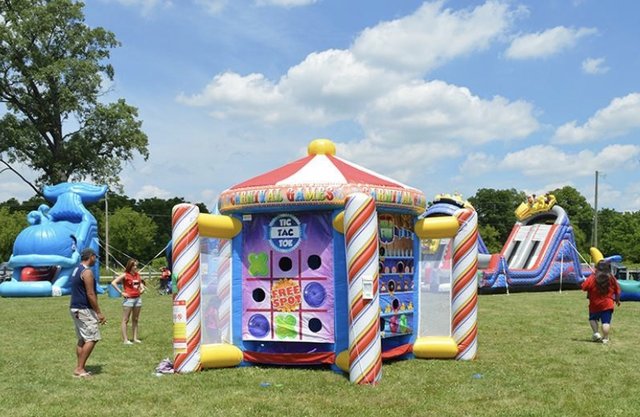 5 n 1 Carnival Game
Actual Size: Actual Size: 16' Wx 16' L x 11' H
Setup Area: Setup Area: 20' W x 20' L x 13' H




Carnival Games - 5 in 1
You cannot have a carnival without carnival games. These are super affordable and perfect for fundraisers. Carnival games are a wonderful way to add an element of fun to your next party. This is one unit that contains 5 different game options. These games are:
Clow toss-tossing game

tic Tac Toe-tossing game

Colors-tossing game

Candy Darts-velcro darts

Wild fun-tossing game
The unit comes with built-in rings to display potential prises to the guests that are trying to earn them. This 5 in one game can be set up inside or outside and doesn't take up a huge amount of space. It is simple to understand and everyone has a great time. This is perfect for school-age children and a wonderful way to entertain guests.
As with all of our inflatable rentals, we do deliver and set this up for you. Just tell us the time and location and we will be there to get everything ready. If you should have any questions or concerns, ask! We are always happy to assist. All of our inflatable games and rentals come from a licensed and insured company. We believe that it is important to keep everything clean and sanitized and do this after each rental. While setting up, we will inspect the rental to ensure it is in good working order. If we find a problem, we will alert you and find something to replace it immediately. Our inflatable rentals have been enjoyed by both kids and adults.
Are you searching for the perfect addition to your upcoming event that guarantees endless fun and excitement? Look no further! Our 5-in-1 carnival game unit is the ultimate solution, offering a diverse range of entertaining games that cater to all ages. Picture the joyous atmosphere as participants engage in the thrill of the Clown Toss, testing their aim and coordination as they toss rings towards the whimsically designed targets.
The Tic Tac Toe Toss introduces a strategic element, turning a classic game into an interactive and dynamic challenge for players of all skill levels. For those who love a splash of color and whimsy, the Colors Tossing Game is a vibrant option that adds a visual spectacle to your event. Participants aim to toss balls into different colored containers, creating a kaleidoscope of excitement. The Candy Darts game takes a classic dart-throwing challenge to the next level by incorporating velcro darts and colorful targets. It's a safe and enjoyable way for participants to showcase their precision skills without any sharp objects involved.
The Wild Fun Tossing Game introduces an element of unpredictability, as participants aim to land objects in various targets, adding an extra layer of excitement and challenge. The versatility of this 5-in-1 unit allows you to switch between games effortlessly, ensuring a dynamic and engaging experience for everyone involved. What's more, the built-in rings display offers a visual incentive for participants, showcasing the enticing prizes they can win with skill and luck. Concerned about space constraints? Worry not! Our carnival game unit is designed to be compact yet impactful, making it suitable for both indoor and outdoor setups.