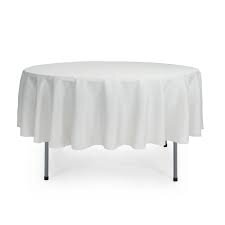 90 Inch Table Cloth Round White
Introducing our 90 Inch Round White Table Cloth, the perfect addition to any event or gathering. Crafted with high-quality materials, this tablecloth is designed to enhance the elegance and sophistication of your dining experience.
Made from durable and wrinkle-resistant fabric, our tablecloth ensures a smooth and seamless appearance, adding a touch of class to any table setting. The crisp white color adds a sense of freshness and versatility, making it suitable for both formal occasions and casual get-togethers.
Measuring 90 inches in diameter, this tablecloth is specifically designed to fit most round tables, providing full coverage and protection. Whether you're hosting a wedding reception, birthday party, or family dinner, our tablecloth will instantly elevate the atmosphere and create a polished look.
Cleaning and maintenance are a breeze with our tablecloth. Simply machine wash in cold water and tumble dry on low heat, and it will be ready to use for your next event. The durable fabric ensures long-lasting use, saving you time and money in the long run.
Invest in our 90 Inch Round White Table Cloth to transform your dining experience and impress your guests. With its exceptional quality and timeless design, this tablecloth is a must-have for anyone looking to create a stylish and inviting atmosphere
.Transform your event into a carnival extravaganza with the infectious joy of "Hit the Bucket" and the array of carnival games offered by Florida Tents and Events. Our mission is to turn ordinary gatherings into extraordinary memories, and we do so by delivering not just games, but an immersive experience that captivates participants of all ages. "Hit the Bucket" embodies the essence of friendly competition and skill development.
As players take aim from 4 ft or 6 ft, the challenge becomes a quest for the perfect throw. Too soft, and the ball might not make it; too hard, and it bounces out of the bucket. This delicate balance fosters a sense of accomplishment when players conquer the challenge, instilling a spirit of camaraderie among participants and creating lasting memories. The versatility of our carnival games ensures that your event remains dynamic and engaging. Beyond "Hit the Bucket," explore a collection of games that span the classics and the contemporary. From timeless ring tosses to modern twists on traditional favorites, our selection caters to diverse tastes, making your event a true crowd-pleaser.
Planning an event should be an enjoyable experience, and that's where our dedicated team steps in. At Florida Tents and Events, we don't just provide games; we collaborate with you to understand your vision. Our customer service representatives are here to answer your questions, address concerns, and provide guidance on selecting the perfect games for your specific occasion.
Imagine the laughter of children, the friendly banter of adults, and the overall festive atmosphere as each participant takes their turn at "Hit the Bucket." It's more than just a game; it's an interactive spectacle that adds an extra layer of enjoyment to your event. Whether you're organizing a school fundraiser where every toss contributes to a greater cause or a community carnival aimed at bringing neighbors together, our games are tailored to elevate the experience for everyone involved.