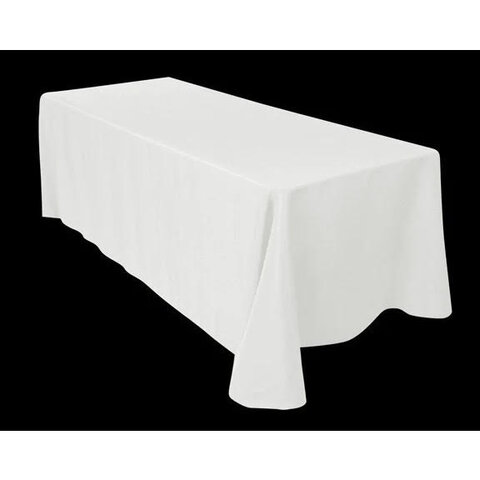 90 x 132 Inch White Rectangle Table Covers
Introducing our 90 x 132 Inch White Rectangle Table Covers, the perfect addition to any event or gathering. Made from high-quality polyester material, these table covers are designed to provide a sleek and elegant look to your tables.
Measuring 90 x 132 inches, these rectangular table covers are specifically designed to fit standard-sized banquet tables. The generous size ensures that your tables are fully covered, creating a polished and professional appearance.
The crisp white color of these table covers adds a touch of sophistication to any setting, making them suitable for a wide range of occasions such as weddings, parties, conferences, and more. The neutral color also allows for easy coordination with various table settings and decor themes.
Crafted from durable polyester fabric, these table covers are not only visually appealing but also practical. They are wrinkle-resistant, ensuring a smooth and seamless appearance even after multiple uses. Additionally, the fabric is machine washable, making it convenient and effortless to maintain their pristine condition.
Our 90 x 132 Inch White Rectangle Table Covers are designed to withstand the demands of any event. Whether you are hosting a casual gathering or a formal affair, these table covers will add a touch of elegance and style to your tables. Choose our table covers and elevate the look of your event today.
Our 90 x 132 Inch White Rectangle Table Covers are not just table covers; they are a statement of style and functionality. The dimensions are carefully chosen to fit standard-sized banquet tables, providing a seamless and tailored appearance. The 90 x 132-inch size ensures that these table covers gracefully drape over the tables, reaching the floor and concealing any unsightly table legs. This attention to detail contributes to the overall polished and professional look that these table covers bring to your event.
The choice of crisp white as the primary color is not arbitrary. White has a timeless elegance that effortlessly elevates the ambiance of any setting. It's a color that symbolizes purity and sophistication, making it an ideal choice for a wide range of occasions. Whether you're organizing a dreamy wedding, a lively party, or a formal conference, these white table covers serve as a versatile canvas, allowing you to play with various color schemes and decorative elements to match your event's theme.
The versatility of these table covers extends beyond their aesthetic appeal. Crafted from high-quality polyester material, these covers offer a perfect blend of durability and visual appeal. Polyester is known for its resilience, making it an excellent choice for table covers that need to withstand the wear and tear of multiple events. The fabric is not only robust but also wrinkle-resistant, ensuring that your tables maintain a smooth and flawless appearance throughout the event. Practicality meets elegance with the machine-washable feature of these table covers. After the event, simply toss them into the washing machine, and they emerge as good as new.
This easy maintenance aspect adds a layer of convenience for event planners and hosts, saving both time and effort in preparing for future gatherings. The durability and practicality of these table covers make them an investment for the long run. Whether you are a professional event planner or someone organizing a one-time celebration, having reliable and visually appealing table covers is a game-changer. These covers not only enhance the overall aesthetic of your event but also contribute to a stress-free and enjoyable hosting experience. In conclusion,
our 90 x 132 Inch White Rectangle Table Covers are more than just table covers; they are the embodiment of style, practicality, and durability. Elevate your event to new heights with these versatile and elegant table covers that leave a lasting impression on your guests. Choose quality, choose style—choose our table covers for a memorable and seamless event experience.