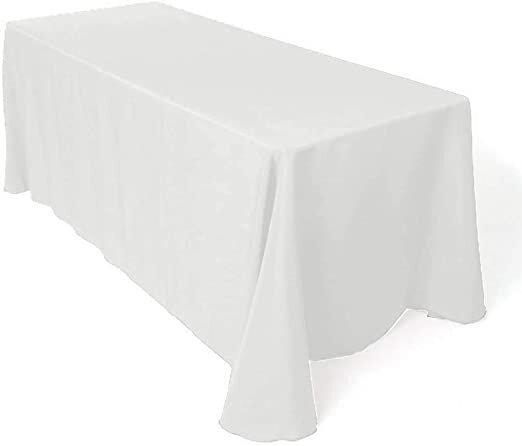 90 x 156 Inch White Polyester Tablecloth
Introducing our 90 x 156 Inch White Polyester Tablecloth, the perfect addition to any event or occasion. Made from high-quality polyester fabric, this tablecloth is both durable and elegant.
Measuring 90 x 156 inches, this tablecloth is designed to fit large rectangular tables, making it ideal for weddings, banquets, conferences, and more. Its crisp white color adds a touch of sophistication and complements any decor or theme.
Crafted with precision, this tablecloth features a seamless design, ensuring a smooth and seamless look on your table. The polyester fabric is wrinkle-resistant, providing a sleek and polished appearance without the need for ironing.
Not only is this tablecloth visually appealing, but it is also practical. It is machine washable, allowing for easy cleanup and maintenance. The polyester fabric is stain-resistant, making it perfect for events where spills and accidents may occur.
Whether you are hosting a formal dinner party or a casual gathering, our 90 x 156 Inch White Polyester Tablecloth is the perfect choice for creating a stylish and inviting atmosphere. Elevate your table setting and impress your guests with this versatile and durable tablecloth.