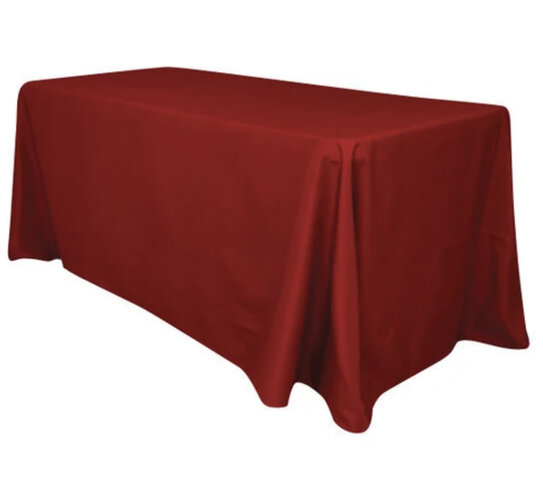 90 x 156 Red Polyester Rectangular Table Cloth
Introducing our 90 x 156 Red Polyester Rectangular Table Cloth, the perfect addition to elevate the aesthetics of any event or gathering. Crafted from high-quality polyester fabric, this tablecloth offers both durability and elegance.
The vibrant red color adds a touch of sophistication and warmth, making it an ideal choice for weddings, banquets, parties, or any special occasion. Its rectangular shape provides a sleek and polished look, while the generous size ensures it can effortlessly drape over most standard-sized banquet tables.
Designed to withstand the demands of frequent use, this tablecloth is wrinkle-resistant, ensuring a flawless presentation every time. Its polyester material is also stain-resistant, making cleanup a breeze. Simply wipe away spills and stains with ease, allowing you to focus on enjoying your event rather than worrying about maintaining the tablecloth's pristine appearance.
In addition to its practicality, this tablecloth offers versatility. It can be easily paired with various table settings, centerpieces, and decor themes, allowing you to create a customized and cohesive look for your event. Whether you prefer a classic, contemporary, or festive ambiance, this tablecloth is the perfect canvas to bring your vision to life.
Invest in our 90 x 156 Red Polyester Rectangular Table Cloth and transform any ordinary table into a stunning focal point. With its exceptional quality, timeless design, and easy maintenance, this tablecloth is a must-have for event planners, party hosts, and anyone looking to add a touch of elegance to their dining experience.