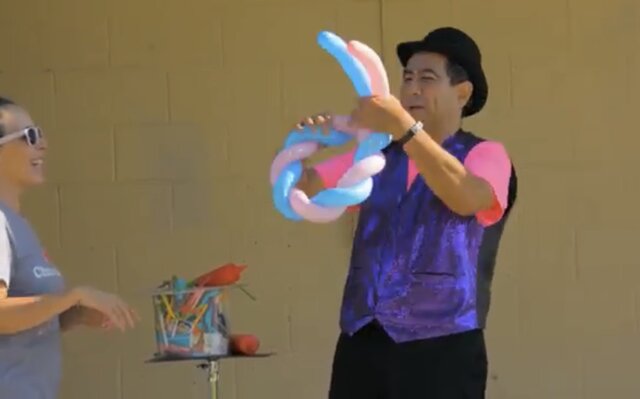 Balloon Artist
Meet our skilled balloon maker, available for hire! Whether you're planning a birthday party, corporate event, or any other special occasion, our balloon artist can create a wide variety of fun and unique balloon figures to add an extra touch of magic to your event. From traditional animals and swords, to more elaborate designs like hats and other accessories, our balloon maker can create it all. Bring some fun and excitement to your next event by hiring our talented balloon maker.
Versatility Beyond Imagination:
Our skilled balloon artist goes beyond the conventional balloon animals. Imagine walking into your event to find vibrant and intricate balloon sculptures adorning the space. From beloved characters to elegant centerpieces, our balloon maker can bring your ideas to life, adding a touch of enchantment to any occasion.
Perfect for All Ages and Events:
Whether you're hosting a children's birthday party or a sophisticated corporate gathering, our balloon artist is adaptable to diverse settings. The delight that balloons bring is universal, making them an ideal choice for any age group or event type. The whimsical creations crafted by our artist can seamlessly fit into the theme of your celebration, enhancing the overall experience for your guests.
Interactive Entertainment:
Balloon artistry is not just about the final product; it's also about the fascinating process of creation. Our balloon maker can set up a live balloon sculpting station, allowing guests to witness the magic unfold before their eyes. This interactive element adds an extra layer of entertainment, engaging and captivating your audience throughout the event. Custom Creations for Personalized Experiences: Tailoring balloon designs to match your event's theme or incorporating specific elements, our balloon artist ensures a personalized touch. Whether it's creating corporate logos from balloons for a business event or sculpting characters from a favorite movie for a birthday party, the possibilities are limitless. Collaborate with our artist to make your vision a reality and leave a lasting impression on your guests.
Bringing Joy and Laughter:
Balloons have a unique way of spreading joy and laughter. The vibrant colors and whimsical shapes appeal to the inner child in everyone. Our skilled balloon maker not only provides visually stunning creations but also contributes to the overall atmosphere of joy and celebration. Witness the smiles and laughter as guests interact with the delightful balloon figures, creating a positive and memorable experience for all.
Capture Instagram-Worthy Moments:
In the age of social media, every event seeks those Insta-worthy moments. Our balloon artist can craft eye-catching sculptures that serve as perfect photo backdrops. Encourage your guests to share their balloon masterpieces on social platforms, generating buzz and extending the reach of your event beyond the venue.
Enhancing Theme and Décor
: Balloons are not just accessories; they can become an integral part of your event's theme and décor. Our balloon artist can work closely with you to ensure that each creation complements the overall aesthetic, turning your event into a visually cohesive and enchanting experience.