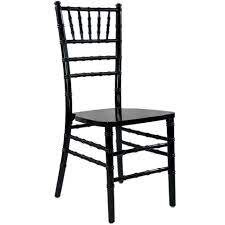 Black Chiavari Chairs
Introducing our elegant Black Chiavari Chairs, a timeless seating option that will add a touch of sophistication to any event or venue. Crafted with meticulous attention to detail, these chairs are not only visually stunning but also built to withstand the test of time.
Made from high-quality beechwood, our Black Chiavari Chairs boast a sleek black finish that exudes elegance and complements any color scheme or decor. The sturdy construction ensures durability, making them suitable for both indoor and outdoor use.
Designed with comfort in mind, these chairs feature a contoured seat and a supportive backrest, allowing guests to sit back and relax during long ceremonies, receptions, or other special occasions. The lightweight design makes them easy to transport and arrange, saving you time and effort when setting up or rearranging your space.
Versatile and adaptable, our Black Chiavari Chairs are perfect for weddings, banquets, corporate events, or any gathering that calls for a touch of sophistication. Whether you're hosting a grand gala or an intimate dinner party, these chairs will elevate the ambiance and create a memorable experience for your guests.
With their classic design and timeless appeal, our Black Chiavari Chairs are an investment that will enhance the aesthetic of your venue and leave a lasting impression on your guests. Don't settle for ordinary chairs when you can elevate your event with the elegance and charm of our Black Chiavari Chairs.