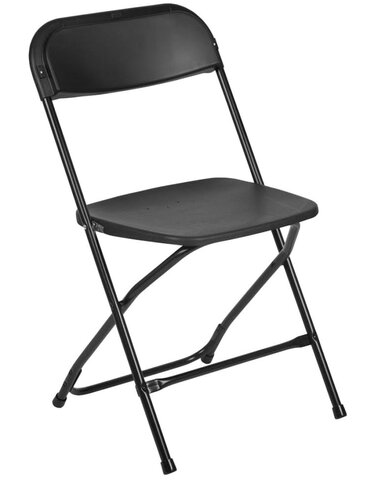 Black Folding Chairs
Introducing our sleek and versatile Black Folding Chairs. These chairs are the perfect addition to any event or gathering, providing both style and functionality.
Crafted with a durable steel frame, these chairs are built to withstand the test of time. The black powder-coated finish not only adds a touch of elegance but also ensures resistance to rust and corrosion, making them suitable for both indoor and outdoor use.
Designed with comfort in mind, our folding chairs feature a padded seat and backrest, providing exceptional support during long periods of sitting. The high-density foam cushioning offers a plush seating experience, while the ergonomic design promotes proper posture and reduces fatigue.
When it comes to convenience, these chairs truly shine. The folding mechanism allows for easy set-up and storage, making them ideal for spaces with limited room. Whether you need extra seating for a party, a conference, or a backyard barbecue, these chairs can be effortlessly transported and set up in a matter of seconds.
Safety is also a top priority. The sturdy cross-brace construction provides added stability, ensuring a secure seating experience for all users. With a weight capacity of up to XX pounds, these chairs can accommodate individuals of various sizes and shapes.
Not only are these folding chairs practical, but they also exude a timeless elegance. The sleek black design effortlessly complements any decor style, from modern to traditional. Whether you're hosting a formal event or a casual gathering, these chairs will elevate the overall aesthetic of your space.
Invest in our Black Folding Chairs and experience the perfect blend of style, comfort, and convenience. Upgrade your seating options today and make a lasting impression on your guests.