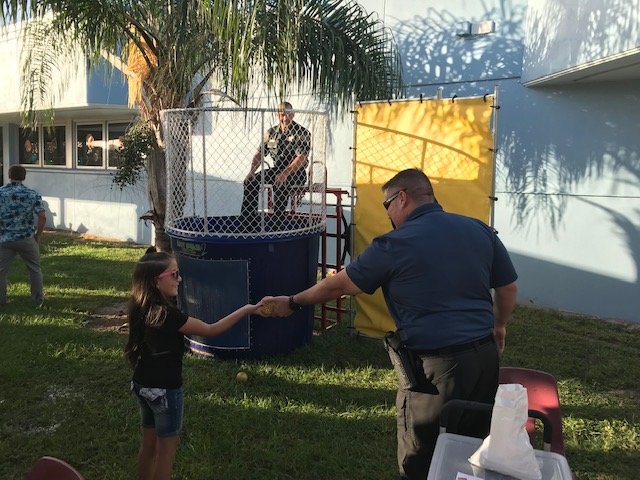 Dunk Tank
Dunk Tank Rentals Orlando
Looking for Dunk Tank Rentals Orlando? Your search ends here as we bring you a collection of colorful dunk tanks! Choose your vibrant addition and enthrall everyone with this stress-busting game!
Imagine getting your friend, teacher, or parent to sit inside a tank. All you have to do is hit the bullseye, and you can see them splash in the water! Well, it can be something else other than water, too! That sounds exciting! Dunk tanks have always been one of the primary attractions in any event. Whether it be a fair or some form of celebration, they can enhance the enthralling aspect two-fold.
Our dunk tank rentals Orlando with the latest innovations, integrations, and features. If you are looking for a change of color or different sizes, we are the ones you can call! Our dunk tank rentals Orlando can also change the liquid inside from water to something slimy, or perhaps water with confetti? Don't worry, and these options are all sanitized and designed to make this a great and safe activity for everyone.
Fun Shouldn't Be Spoiled!
You don't have to worry about cleaning the tanks or transporting them at all. Simply give us a call, and we will deliver it to your desired location. Not only that, but we will also clean and pack our tanks. This makes us one of the top-ranking dunk tank rentals Orlando.
We aim for remarkable customer satisfaction. We not only offer dunk tank rentals, but water slide rentals, inflatable rentals, and carnival rentals of all types. Do you need someone to operate the dunk tank? We have crew members that are rentable as well. Or perhaps you need someone to help you with the decorations? Don't worry; we have capable handymen ready for duty! Don't stress over all the work you need to do to prepare. We can help in many different ways. And, when you are done, we will be back by to pick everything up.
Don't Compromise The Safety
We are licensed and certified Dunk tank rentals Orlando professionals, we satisfy all standards by the various ordinates. Not only that, but we also follow strict protocols. Our dunk tanks are well-maintained and many of our items are state inspected as need. This is one of the many reasons that we have a long list of satisfied repeat customers.
More Than Just Drunk Tank Rentals Orlando!
Organize a perfect event with Florida Tents and Events for all the supplies you will ever need to throw a successful carnival. Tables, chairs, decorations, bouncy house, fun rides, and slides, you name it, we have it! We strive to have a collection to deliver 'fun' for people of all ages. Even if it is just some tent and flashy decoration you're looking for!
Don't need rides? How about some great food options like concessions with cotton candy and popcorn?! Adding a concession machine are two satisfies everyone. People love the smell of the popcorn while attending a carnival and will gladly purchase a bag or two. If your carnival is for fundraising, this is a great way to add additional ways to earn.
Once you have the date and have ordered the dunk tank rental Orland and everything to go with it, you just need to sit back and wait. Our professional carnival rental experts will deliver everything to your party's location. Simply contact us for your Dunk Tank Rentals Orlando, anytime!