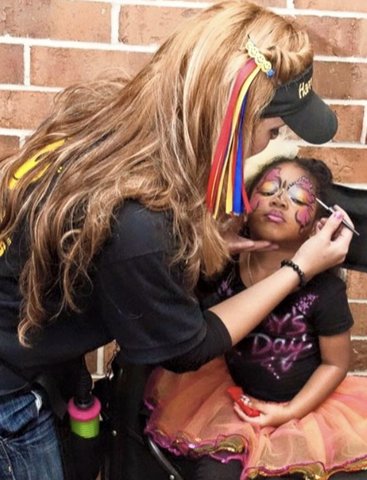 Face Painting
Face Painting is something that is a wonderful addition to any event. We have had people rent our face painters for all kinds of reasons. Our face painters can be combined with our other inflatable rentals or you can simply offer this as an option at your parade or community event. The face painters don't take up much room and are really talented. People have even hired our face painters as a part of their fundraiser as they are so talented that parents are happy to pay for their child to get their face painted. If you are having a commercial event, you should really look into face painting as an option. This is not only great for kids, but adults love to get their face painted as well.You can choose from various animals, insects, or floral designs. Put your kids' names on your face or arm. Our talented face painters don't have to stick to just the face, they can paint on your arm or hand as well. While we do offer some amazing face painters, we also offer some other great inflatable rentals and party rentals. We have bounce house rentals and water slide rentals that are sure to please. All of our rentals are delivered to your party area. We will take the time to set everything up for you to enjoy. When you are done, we will be back by to pick it all up. Give your guests a day to remember with our party rentals and face painting rentals.
Creating lasting memories at events is what we do best! Our face painters bring a burst of color and imagination to any occasion. The versatility of our talented artists is truly remarkable—whether it's a roaring lion, fluttering butterfly, or a delicate floral design, they can turn faces into canvases of joy. The creativity doesn't stop at faces; our artists are skilled at painting on arms and hands, giving attendees even more options to express themselves.
What makes our face painters even more extraordinary is their ability to cater to all ages. It's not just the kids who enjoy the transformation; adults often find themselves drawn to the allure of face painting. Imagine a community event where both parents and children share in the excitement of getting their faces adorned with vibrant and whimsical designs—it's a bonding experience like no other. The magic of face painting extends beyond private parties. We've been a part of numerous parades and community events, adding that extra dash of enchantment to the festivities. It's not just about the visual spectacle; it's about fostering a sense of community and shared joy. Our face painters seamlessly blend into the vibrant tapestry of events, leaving a trail of smiles wherever they go.
For those looking to turn their events into fundraisers, our face painters become not just artists but contributors to the cause. Parents are more than willing to support events where their children can indulge in the delightful experience of getting their faces painted. The funds raised become not just a monetary contribution but a symbol of the community coming together for a shared purpose. But that's not all we offer. Our inflatable rentals, including bounce houses and water slides, bring an added element of thrill to any gathering. Picture a day filled with laughter as kids bounce and slide to their heart's content. The combination of face painting and inflatable rentals creates a dynamic atmosphere where every moment is an opportunity for joy and connection.