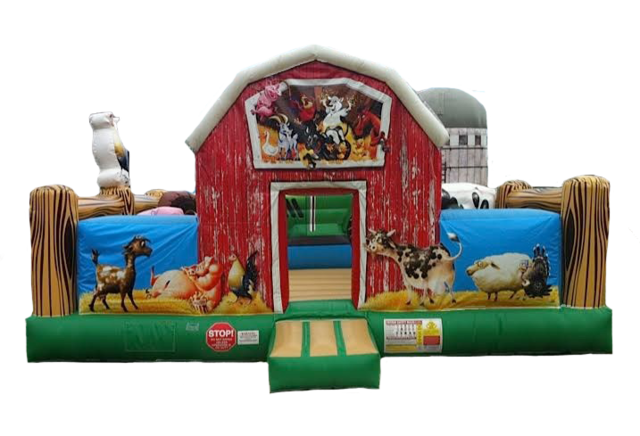 FarmYard PlayGround
Actual Size: 19x19x10
Setup Area: 21x21x12
Outlets: 1




Unleash Your Child's Imagination with the Farmyard Playground Toddler Inflatable in Orlando
The Farmyard Playground is an outdoor play area designed to resemble a farmyard setting. It includes a variety of really cute smiling fun farm animals like a goat, pig, chicken, cow, sheep, turkey, bull, horse, and more. The super cute feed silo, full-size cow entrance, tractor, and horse inside to play around in this playground bounce. A great addition for the Farmyard Toddler Bounce House Rental is a wonderful addition to any toddler party or large carnival. Toddlers love animals! This Farmyard Toddler Bounce House Rental is perfect for your next backyard gathering or adds it to your large carnival to offer something for the little ones. Farmyard Toddler Bounce House Rental is so perfect for little ones and parents to play as well. This is a smaller rental that allows the little ones to bounce with confidence. This inflatable is sure to offer hours of fun. While this inflatable is rated for toddlers, parents are welcome to get inside as well. The rating is for the fun factor, as teens probably would not find the pop-up animal obstacle fun at all. There is a pop-up animal obstacle course as well as a free bouncing area, a small climbing wall, and a slide, all geared toward the size of a toddler. This inflatable rental has an open top, which means that you should pack some sunscreen. With that open top, they will also have a nice breeze. With its compact size, indoor play can be enjoyed year around, but we also offer outdoor setup as well. The FarmYard PlayGround has amazing graphics that will be fun for the kids to play with too. They can say the various sounds of the animals and name them to you as well. This interactive play is so important to their development. Call today!
Views of the FarmYard Playground
It's important for our customers to see current pictures of our inventory, so we want to share some of the pictures taken this year of the FarmYard Playground for you to view, and see some of the really cool details in this inflatable farm yard bounce playground.