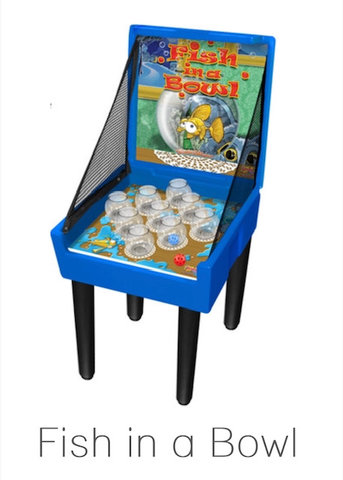 Fish In The Bowl
Actual Size: 3 x 3
Setup Area: 5 x 5




Fish in a Bowl
Fish in a bowl is a wonderful and affordable way to add a carnival game to your next carnival. We have many carnival games to choose from, but this one is one of the favorites. Kids seem to love fish in a bowl and you will too. This game is a game of chance, it comes with some ping pong balls which are tossed into the game in hopes that one lands in a fishbowl. This game is easy enough that the whole family will enjoy. If you are looking for affordable options to add to your next carnival, then you should take a look at fish in a bowl.
While fish in a bowl is a cute and fun game. We do offer other carnival game options as well. We understand that when you are throwing a carnival you want to have a few games for everyone to play. We have those games and are happy to set them up for you. Everything will come delivered and set up in time for your guests arrival. We have worked with large and small carnivals and are professionals at the party rental business. We will be there on time with clean and ready to go equipment. Everything is inspected when it arrives and guests will certainly love what you have done. If you are in the Orlando area and are looking for fundraiser ideas, a carnival is the perfect solution.
Fish in a Bowl offers a unique and interactive experience that captures the essence of traditional carnival games. The anticipation and element of chance involved in tossing ping pong balls into fishbowls add an element of excitement to the event. The game not only provides entertainment but also fosters friendly competition among participants, making it an ideal choice for social gatherings and community events. The versatility of Fish in a Bowl makes it adaptable to various themes and occasions. Whether it's a birthday party, a school fair, or a community fundraiser in the vibrant city of Orlando, this game can easily complement the overall atmosphere and contribute to the success of the event.
The appeal of the game extends beyond just winning; it's about the joy of participation and the thrill of seeing a ping pong ball land perfectly in a fishbowl. In addition to Fish in a Bowl, the availability of a range of other carnival games ensures that there's something for everyone. From classic ring toss and duck pond games to more challenging activities, the diverse options cater to different interests and skill levels. This variety enhances the overall experience for attendees, encouraging them to explore and engage in multiple activities throughout the carnival.
The commitment to delivering clean and well-maintained equipment reflects the professionalism of the party rental service. Organizers can rest assured that every detail is taken care of, from the setup to the inspection of the equipment. This attention to detail contributes to a seamless and enjoyable experience for both the hosts and the guests. For those considering hosting a fundraising event in Orlando, a carnival provides a lively and engaging way to raise funds for a cause. The festive atmosphere, coupled with the array of games and activities, encourages community involvement and support. The success of previous events, both large and small, speaks to the expertise of the party rental professionals in creating memorable and successful carnivals.