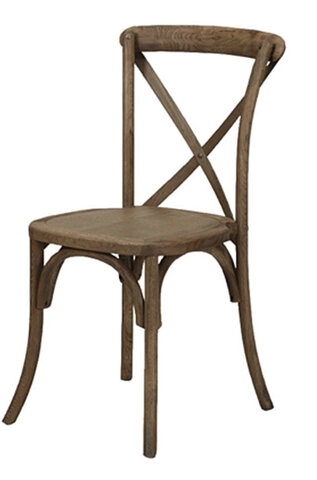 French Cross Back Chair Rental Orlando Florida
If you are having a rustic event, then we have the chairs for you! Our special event French Style Cross Back Brown Rustic Chair Rental In Orlando Florida would be a great choice
Planning a rustic-themed event can be both exciting and challenging, as every detail contributes to creating the desired ambiance. Our French Style Cross Back Brown Rustic Chairs are the perfect addition to elevate the rustic charm of your event in Orlando, Florida. These specially crafted chairs bring a touch of classic elegance and warmth, enhancing the overall aesthetic and providing a comfortable seating solution for your guests. When it comes to hosting events, seating arrangements play a crucial role in ensuring the comfort and enjoyment of attendees.
The French Style Cross Back design of our rustic chairs not only adds a distinctive flair but also offers a comfortable and supportive sitting experience. The brown color complements the rustic theme beautifully, adding a natural and earthy element to the surroundings. Whether you're organizing a wedding, a corporate gathering, or a private celebration, these chairs are versatile enough to suit various occasions. Our rental service aims to simplify the event planning process for our customers in Orlando, Florida. We understand the importance of reliable and convenient services, and that's why we offer a hassle-free rental experience.
From the moment you inquire about our French Style Cross Back Brown Rustic Chairs to the delivery and pickup after your event, we prioritize professionalism and efficiency. Our team is dedicated to ensuring that you receive top-quality chairs that meet your expectations and contribute to the success of your event. One of the key aspects of our rental service is flexibility. We understand that every event is unique, and our goal is to accommodate your specific needs.
Whether you require a small number of chairs for an intimate gathering or a large quantity for a grand event, we can cater to your requirements. Our competitive pricing ensures that you can access high-quality, stylish chairs without exceeding your budget, allowing you to allocate resources to other aspects of your event planning. In addition to the aesthetic appeal and comfort of our chairs, we also prioritize the durability and safety of our products. Our French Style Cross Back Brown Rustic Chairs are constructed from high-quality materials, ensuring that they can withstand the demands of various events.
The robust design not only enhances the chairs' longevity but also provides stability, giving you and your guests peace of mind during the event. As a local rental service based in Orlando, Florida, we take pride in our commitment to customer satisfaction. We strive to exceed expectations by offering personalized and attentive service. If you have specific preferences or requirements for your event, we are more than willing to work with you to customize our rental service accordingly.
Our goal is to contribute to the success of your event by providing reliable and stylish seating solutions that leave a lasting impression on your guests. In conclusion, when you choose our French Style Cross Back Brown Rustic Chair rental service in Orlando, Florida, you're not just getting chairs; you're investing in a seamless and enjoyable event experience. From the timeless design and comfort of our chairs to our commitment to customer satisfaction and flexibility, we are dedicated to making your event a memorable success. Contact us today to discuss your event requirements and let us be a part of bringing your rustic-themed vision to life.