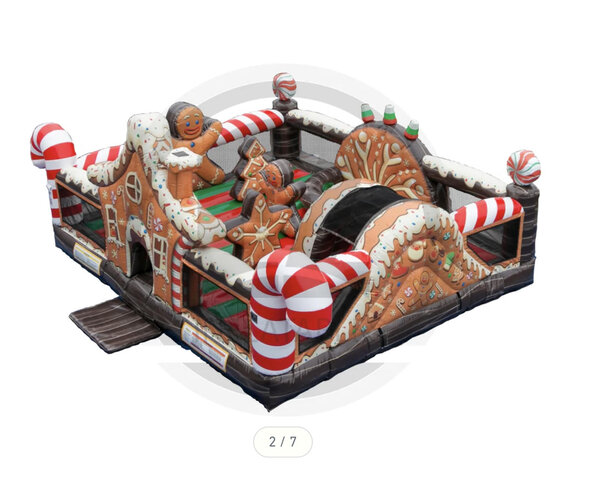 Ginger Bread Play Ground Bounce House
Setup Area: 20 x 20
Outlets: 1
Age Group: All Ages




Jump, Bounce, and Play in a World of Sweet Treats in this Gingerbread Playground Bounce House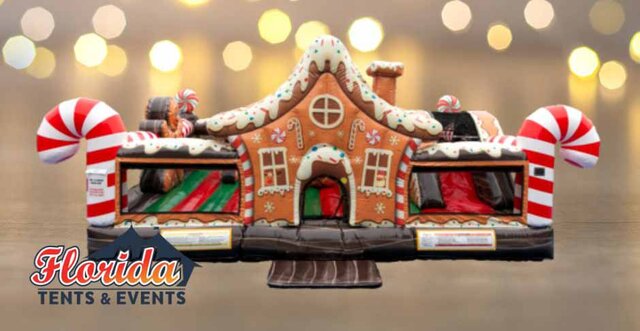 Step into a world of sugary delights with our Gingerbread Playground Bounce House! Perfect for kids of all ages (though recommended for ages 2-12), this bounce house is the ultimate playground for those with a sweet tooth in the Orlando area. With its vibrant colors and playful design, you'll feel like you're bouncing through a gingerbread house straight out of a fairytale.
Inside the Gingerbread Bounce House
Let your little ones jump, bounce, and play in a safe and fun environment, surrounded by some of their favorite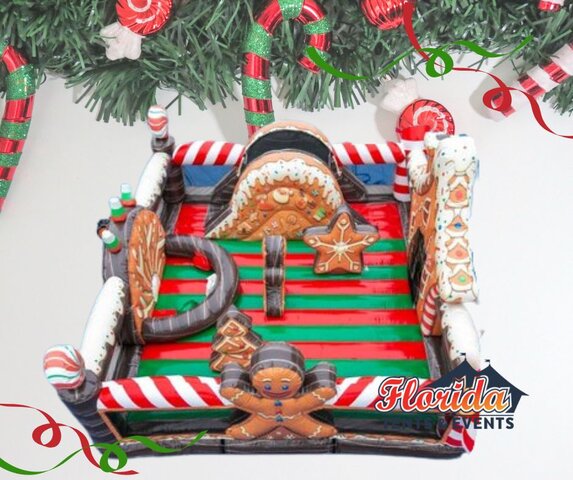 sweets. With its sturdy construction and high-quality materials, our bounce house is the perfect addition to any Christmas party, event, or backyard playdate. So come on in and experience the Gingerbread Playground for yourself! With its vibrant red and green bouncing floor, your kids will feel like they're bouncing through a winter wonderland. The large bouncing area is perfect for little ones to burn off some energy, while the festive pop-ups offer a fun challenge for them to navigate. And when they need a break from bouncing, they can climb up and slide down the small climb and slide, or even relax in the small ball pit area in the back.
Other Holiday Items that Pair Well with this Rental
If you are looking for other inflatables to add to your Christmas party we have several other inflatables that pair well with the Ginger Bread Play Ground Bounce House. We suggest you check out our Nutcracker Bounce House, Inflatable Snowman Bouncy House, Ginger Bread Bounce House, Inflatable Snow Globe, or even the Christmas Bouncer with Slide. All of these items will add to the holiday flair at your event. And if you need tables and chairs to seat your guests, we've got you covered there too!
What to do next if you want to rent the Gingerbread Playground
If you want to rent the Gingerbread Playground Inflatable you can call our office at 407-777-4776 to speak with one of our office staff to place your rental. Our inflatable rentals are for up to 6 hours and we do require a deposit to book the rental. You can also use our simple online checkout system by clicking the "Book Now" button at the top of the item page. You will enter all of your personal and party information and on the final screen you will be asked to enter your credit card information to make the payment. Once you make the deposit, your rental is official. If you have any questions you can email us at events@floridatentsandevents.com.
See additional photos of the playground obstacle below.