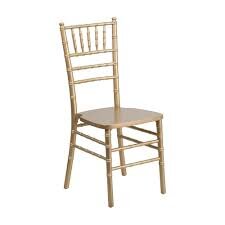 Gold Chiavari Chairs
Introducing our exquisite Gold Chiavari Chairs, the epitome of elegance and sophistication. These stunning chairs are the perfect addition to any event or venue, adding a touch of glamour and luxury.
Crafted with meticulous attention to detail, our Gold Chiavari Chairs feature a sturdy wooden frame, expertly finished in a lustrous gold hue. The high-quality construction ensures durability and longevity, making them a wise investment for both commercial and residential use.
Designed with comfort in mind, these chairs boast a contoured seat and a supportive backrest, providing optimal seating experience for your guests. The lightweight nature of the chairs allows for easy transportation and setup, making them ideal for weddings, banquets, conferences, and other special occasions.
Versatility is a key feature of our Gold Chiavari Chairs, as they effortlessly blend with any decor style, be it classic, modern, or contemporary. The rich gold color adds a touch of opulence, creating a luxurious ambiance that will leave a lasting impression on your guests.
Furthermore, our Gold Chiavari Chairs are not only visually appealing but also highly practical. They are stackable, allowing for efficient storage and space optimization. The easy-to-clean surface ensures hassle-free maintenance, saving you time and effort.
Whether you are a wedding planner, event coordinator, or simply someone who appreciates fine aesthetics, our Gold Chiavari Chairs are a must-have addition to your inventory. Elevate your event to new heights of sophistication and create unforgettable memories with these exquisite chairs.
Choose our Gold Chiavari Chairs and let their timeless beauty and exceptional quality make a statement at your next event.