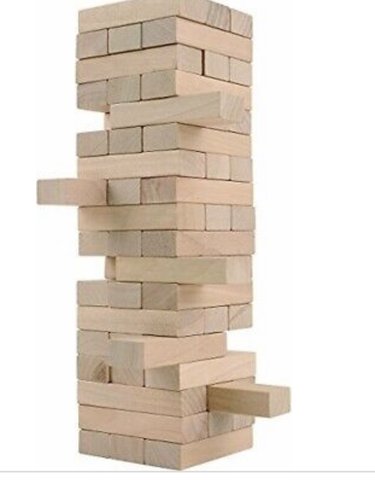 Jenga
Yard Jenga is so much fun and you can even add your own rules to it. Play as a group or challenge each other as individuals. Our large yard Jenga is quite a hit for those that are looking to team-build as well. This game contains 54 large bricks that you play out just as you would the tabletop game. Jenga can be fun for all ages. These large pieces stack 18 stacks high! The object of the game is to pull out a block and not have the tower fall over. Some blocks will be loose and easy to push through, however, others are holding the weight of the structure and should be avoided. It is totally up to you.As with all of our party rentals, we offer delivery and set up. We take the time to inspect the set up to ensure everything is in perfect working condition. When your party is over, we will be back out to tear it all down and bring it back to our storage facility. Here all rentals will go through a sanitization process and then put into the storage facility. We work with clients with large corporate parties as well as backyard parties too. This rentable Jenga game can be an addition to a bounce house rental or other yard games that we have to offer. We want everything to go smoothly and have done party rentals for many years. This means that we fully understand what to expect for set up. Your set up will certainly be complete before any of your guests arrive.
Yard Jenga, with its 54 large bricks that stack up to 18 levels high, is not only an exciting game but also a visually impressive addition to any event. The sheer size of the game creates a captivating spectacle, drawing in participants and onlookers alike. This larger-than-life version of Jenga offers a unique physical challenge, requiring players to carefully strategize and maintain balance as they remove blocks from the towering structure.
The versatility of Yard Jenga is highlighted by the option for group play or individual challenges, making it suitable for various occasions. For team-building events, the game serves as an excellent icebreaker, fostering camaraderie and encouraging communication among participants. Alternatively, during casual gatherings, the game becomes a focal point for friendly competition and shared laughter. The customizable rules further enhance the entertainment value, allowing players to tailor the game to their preferences and skill levels. This adaptability ensures that Yard Jenga remains engaging for players of all ages and skill sets. Whether played in a relaxed backyard setting or as part of a more formal corporate event, the game's adaptability makes it a versatile choice for diverse audiences.
Your commitment to customer service is evident through the comprehensive rental package you offer. From delivery and setup to teardown and sanitization, you prioritize the convenience and safety of your clients. The meticulous inspection of the setup before and after the event underscores your dedication to delivering a flawless experience.