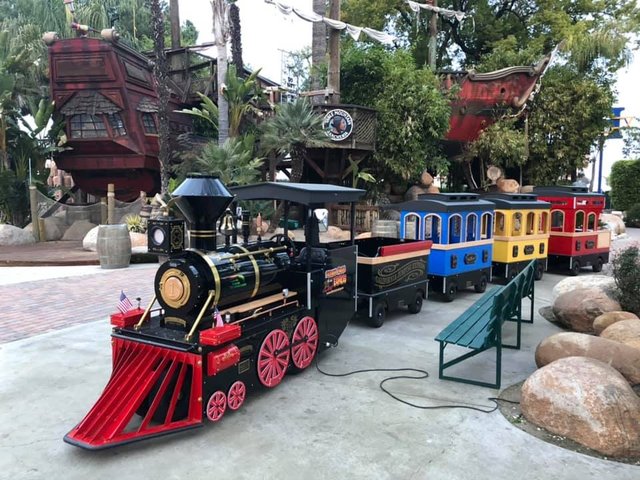 Large Train
Discover the fun of a train ride with our colorful deluxe train, now available for hire! The train features red and blue carriages, creating a vibrant and eye-catching experience for all. Perfect for kids and adults alike, this ride is sure to be a hit at your event or celebration. Book your ride today and create unforgettable memories!
Embark on a journey of excitement and joy with our vibrant deluxe train, a perfect addition to your upcoming event or celebration! Our colorful train features eye-catching red and blue carriages that will captivate the imaginations of both kids and adults.
This delightful experience includes:
Eye-Catching Design: The red and blue carriages add a splash of color to your event, creating a visual spectacle that is bound to leave a lasting impression on your guests. The train's playful design is not only aesthetically pleasing but also ensures a lively and engaging atmosphere for everyone in attendance.
Family-Friendly Fun: Our deluxe train ride is designed to cater to all age groups, making it a fantastic choice for family-oriented events. Kids will be enchanted by the whimsical colors and the joyous experience of riding on a train, while adults can indulge in a sense of nostalgia and relish in the delight of seeing their little ones enjoy the moment.
Interactive Experience: The train ride offers more than just a journey from one point to another. With its interactive elements, passengers can enjoy the thrill of the ride, wave to onlookers, and even participate in themed activities or games organized onboard. This ensures that the train ride becomes a fully immersive and engaging experience for everyone on board.
Flexible Event Options: Whether you're hosting a birthday party, a community fair, a corporate gathering, or any other celebration, our deluxe train is versatile enough to suit various occasions. Its vibrant presence can serve as a focal point for festivities, providing a unique and entertaining backdrop for your event.
Memorable Moments: Capture unforgettable memories as you and your guests ride through the venue in our deluxe train. The combination of laughter, excitement, and the picturesque setting of the event will be etched in the memories of all participants. It's not just a train ride; it's an opportunity to create cherished moments that will be talked about long after the event concludes.
Convenient Booking: Securing our deluxe train for your event is a hassle-free process. Simply contact us to check availability and make a reservation. Our team will work with you to ensure a seamless experience, from the booking stage to the actual event. We understand the importance of punctuality and professionalism, and you can trust us to deliver a delightful train ride experience for your guests.
Competitive Pricing: Our deluxe train ride is available at a reasonable rate, with a 2-hour minimum booking requirement. We believe in providing quality entertainment that is accessible to a wide range of event organizers. The pricing includes not just the ride itself but also the opportunity to create lasting memories that add significant value to your event.
This fun train ride is available for $300 per hour with a 2 hour minimum.