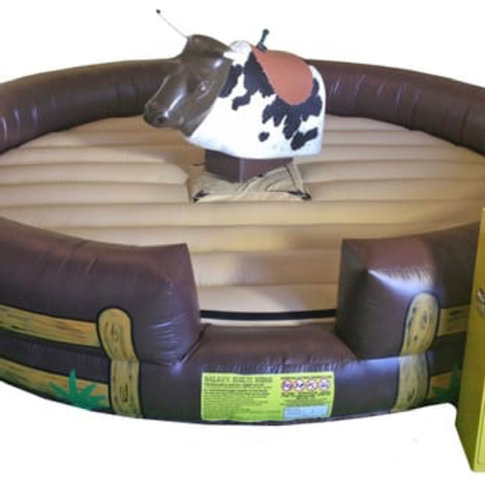 Mechanical Bull
Mechanical Bull Rental
Mechanical bull rental is a wonderful addition to any party. Bring in the wow factor for your next backyard and get together with a mechanical bull rental. These are fun for all ages and are simple to rent. When renting our mechanical bull you will be getting an operator as well. This is for your safety. We take our business very seriously and offer a unique option to our clients and it shows.
The mechanical bull rental is a unique rental that isn't found at every party rental shop in the area. We understand that you might have a tough crowd, which is why we have stepped it up a notch from just fun and colorful bounce houses for the kids. We offer some unique and hard to find items that add that next level of fun and entertainment to your party. Florida Tents and Events is located in Orlando. Orlando is the capital of fun, which makes finding unique items really important to us. We live and work here, so our reputation is important as well. We take the time to go the extra mile to ensure all of our rentals are safe and cleaned. Give us a call today!
First, set the date!
The first thing you need to do is determine your party's dates. If there are a lot of kids involved, say for a school carnival, be sure to ask the school for copies of practices that are going on. This will ensure you don't have your school carnival conflicting with a lot of other things. Taking the time to do this research will ensure that you have picked a day that will work for most of your target audience. We have been in the event rental business for a number of years and are surprised by the number of people that don't do this.
Order the party rentals.
Once you have a date, you can take a look around on our Florida Tents and Events website. Here you will find that we not only offer our mechanical bull rental but also many other things. We have fun party rentals as well as table and chair rentals and everything in between. We know and understand the entertainment business which is why we offer so many different items. It takes a lot to put together a full-on carnival but we have done it multiple times in the past. Working with our clients to get them the party they are envisioning is our pleasure. Not looking for a large event? Not a problem. All of our items are priced well for smaller events as well. Call now and we are happy to assist in any way possible.
Stand out!
Are you a member of a sorority or fraternity and want to have some fun? Check out our mechanical bull rental as well as other outdoor party options. We work with young adults all the time to put on the party of a lifetime. Let's get started today. Call now.
This rental is available for a 2 hour minimum.