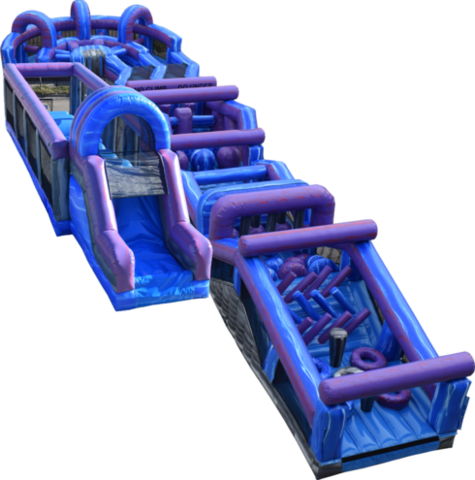 Mega Obstacle Run
Outlets: 4
Age Group: All Ages




130 foot long Mega Obstacle course Challenge accepted Orlando! GO! Florida Tents And Event is excited to bring Cross Fit inflatable obstacle course rentals! With a tire run, vertical challenges, vertical drop downs, and crawl throughs, this rental is sure to bring the fun! You can also add on our Extreme 3, Hop Skip n Jump, or even the Warrior Jump to make this a Mega Obstacle Course.
Florida Tents And Event is thrilled to introduce the Mega Obstacle Course Challenge Accepted Orlando! This inflatable obstacle course rental is designed to bring a whole new level of excitement to events in the Orlando area. At an impressive length of 130 feet, this course promises to deliver an unforgettable experience for participants of all ages. One of the standout features of this Mega Obstacle Course is the dynamic range of challenges it offers.
The tire run provides a test of agility and coordination, setting the tone for the adrenaline-pumping adventure that awaits. As participants navigate through the course, they'll encounter vertical challenges that demand strength and determination. These vertical elements add a thrilling dimension, pushing participants to reach new heights and conquer their fears. The vertical drop downs introduce an element of surprise and quick decision-making, keeping participants on their toes throughout the course. It's not just about conquering the obstacles; it's about adapting to unexpected twists and turns, making the experience even more engaging.
The crawl throughs, strategically placed within the course, require participants to navigate tight spaces, emphasizing agility and strategic thinking. What sets this Mega Obstacle Course apart is its versatility. Florida Tents And Event understands that every event is unique, and preferences vary. To cater to a wide range of interests, participants have the option to enhance their experience by adding on additional features. The Extreme 3, with its own set of challenges, provides an extra layer of intensity for those seeking an even greater test of strength and endurance. For those who enjoy a mix of fun and skill, the Hop Skip n Jump offers a playful twist to the obstacle course experience.
Jumping from one platform to another requires precision and timing, making it a favorite among participants looking for a more lighthearted yet still challenging option. Meanwhile, the Warrior Jump adds an element of height and excitement, appealing to thrill-seekers who want to take their adventure to new heights. The Mega Obstacle Course is not just an inflatable attraction; it's a customizable adventure that event organizers can tailor to suit their specific audience. Whether it's a team-building exercise, a family-friendly event, or a competitive challenge, the Mega Obstacle Course can be adapted to meet the unique requirements of any occasion.
Florida Tents And Event takes pride in delivering not just a rental but an experience. The team is dedicated to ensuring that every detail, from the setup to the safety measures, is meticulously handled, allowing event organizers to focus on creating lasting memories for their participants. In conclusion, the Mega Obstacle Course Challenge Accepted Orlando! from Florida Tents And Event is poised to be the highlight of any event. With its impressive length, diverse challenges, and customizable options, this inflatable obstacle course rental brings a new dimension of fun and excitement to the Orlando area. It's not just a course; it's an adventure waiting to be explored, making it the perfect addition to a wide range of events and celebrations.