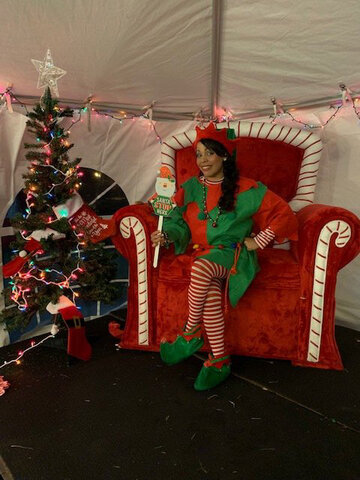 Santa Elf
Sometimes having Santa himself is a lot of fun but the kids like to see the elves too. That's why we offer a Santa elf that is there to help Santa maintain composure as well as hand out gifts, should you want that as an option. There are photo opts that can be done with Santa and the elf too. Be sure to check out our photo booth rental for this, as it could come in quite handy. The elf is there to make things more festive. We all love the thoughts of elves working away in the north pole, well, we will bring one to your next party or event. Holiday parties are not complete without Santa and the Elf. Let us whisk your guests to a faraway place that is full of magic and mystery with our Santa and Santa elf. We not only offer the rental of Santa and the Santa Elf but have a bunch of entertainers that you can order from our website.
We also have lots of other party equipment that we offer as well. We work with our clients to find the right level of entertainment needed for the number of guests they plan to entertain. From fun bounce house rentals to dance floors and photo booths, there is something for everyone. Take a look around and if you struggling to find what it is that you need, ask! We have a huge warehouse full of party supplies. Call today and let our staff help you put together the party of a lifetime.
Your commitment to creating the "party of a lifetime" demonstrates a dedication to customer satisfaction and making each event memorable. The inclusion of an elf alongside Santa is a delightful touch that brings the enchantment of the North Pole to holiday gatherings. This not only enhances the festive atmosphere but also adds an element of storytelling and imagination that both children and adults can enjoy. The availability of a photo booth rental for capturing special moments with Santa and the Elf is a thoughtful addition. It provides guests with tangible memories they can cherish, and it adds an interactive and fun element to the event.
The idea of photo opportunities with Santa and the Elf allows families and friends to create lasting keepsakes, preserving the magical moments of the holiday celebration. Moreover, your diverse range of entertainers showcases a commitment to meeting the unique preferences and themes of different events. Whether someone is looking for a jolly Santa, an animated Elf, or other entertainers to complement the occasion, your selection offers flexibility for clients to curate an experience that suits their vision. This variety ensures that each party can have its distinct character, whether it's a corporate holiday gathering, a community event, or a private family celebration. The emphasis on working closely with clients is a key aspect of your service.
Understanding the specific needs and expectations of clients enables you to tailor the entertainment to the size and nature of the event. This personalized approach ensures that every detail aligns with the client's vision, creating a seamless and enjoyable experience for both hosts and guests. In addition to the entertainment options, the mention of a vast warehouse filled with party supplies hints at the extensive resources at your disposal. This not only speaks to your ability to accommodate diverse requests but also assures clients that they can find everything they need for a successful event in one place. The convenience of having a one-stop-shop for party supplies simplifies the planning process for clients, making it easier for them to create a cohesive and captivating event.