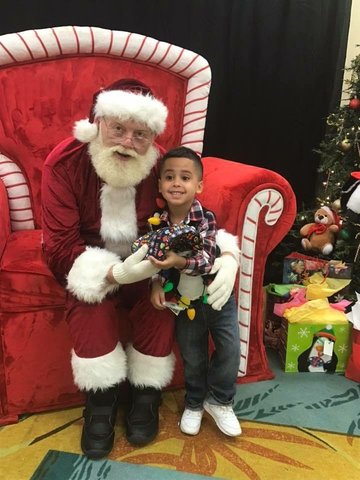 Santa
Are you thinking about having a holiday party? Holiday parties are a lot of fun. However, adding a Santa can make that excitement even better. Kids and adults love to see Santa around the holidays. He brightens the room and lifts up the spirit of Christmas. We offer a safe and fun Santa that will interact with the kids and adults alike. Our Santa will come to the party and even bring his own chair and set up. Should you have any requests, let us know. We are happy to offer real live people that are super talented and can attend your party to interact with guests.We not only offer Santa rentals, but we have many other people rental to choose from as well as some fun activities. If you are looking to rent ponies, we have those. Want a rock wall? Not a problem! We believe that it is important that we offer our clients a little bit of everything so that they can have the party of their dreams. Take a look around and see all the fun we have to offer from one website. Everything you see will be delivered right to the party location.
We offer drop off, set up, and pick up services for your convenience. Some of these rentals are very heavy and have certain techniques that need to be followed to safely set them. Don't delay, rent your Santa and other party rentals today. They go fast and when they have gone, you'll have to wait until next year.
Absolutely, let's dive into the holiday spirit even more! Picture this: a winter wonderland transformed with twinkling lights, tinsel, and the joyous laughter of kids and adults alike. Our Santa doesn't just stroll in; he brings the North Pole magic with him, captivating hearts with stories from the workshop and handing out personalized gifts. It's not just about sitting on Santa's lap; it's about creating enchanting memories that will be cherished for years.
Now, let's talk about those ponies. Imagine the delight on the kids' faces when they see real, live ponies grazing in the backyard, ready for gentle rides. It's a touch of countryside charm right at your doorstep. And the rock wall? It's not just a physical challenge; it's a metaphor for overcoming obstacles and reaching new heights. It's a fantastic addition for both kids and adventurous adults who want to inject a bit of thrill into the festivities. But wait, there's more! Our diverse range of people rentals ensures that your party caters to everyone's tastes. From professional entertainers to skilled performers, we've got characters that suit any theme or vibe you're aiming for. Whether it's a lively magician, a face painter, or even a caricature artist, we bring the talent to keep the smiles flowing. And for those who appreciate a more laid-back vibe, we've got cozy options too. How about a holiday movie night under the stars, complete with comfy blankets and a popcorn machine? It's the perfect way to wind down after all the excitement. We understand that hosting a party involves a lot of logistics, so we take care of the heavy lifting—literally.
Our team handles the delivery, setup, and pick up of all rentals, ensuring a stress-free experience for you. Safety is our priority, so rest assured that every installation is done with precision and care. So, why wait? Make this holiday season unforgettable with our all-in-one party packages. Secure your Santa, ponies, rock wall, and more today, because these festive opportunities are like hot cocoa on a chilly night—once they're gone, you'll have to wait until the next holiday season to experience the magic again.