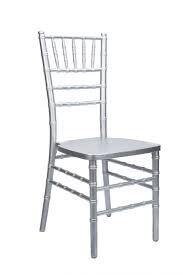 Silver Chiavari Chairs
Introducing our elegant Silver Chiavari Chairs, the perfect addition to any event or venue. These chairs are not only visually stunning but also offer exceptional comfort and durability.
Crafted with precision, our Silver Chiavari Chairs feature a sturdy hardwood frame, ensuring long-lasting performance. The silver finish adds a touch of sophistication and elegance, making them suitable for a wide range of occasions, from weddings and banquets to corporate events and gala dinners.
The classic Chiavari design, with its graceful curves and intricate detailing, exudes timeless beauty and charm. The open backrest and comfortable seat provide optimal support, allowing your guests to relax and enjoy the event to the fullest.
Our Silver Chiavari Chairs are not only aesthetically pleasing but also highly practical. They are lightweight and stackable, making setup and storage a breeze. Whether you need a few chairs for an intimate gathering or a large quantity for a grand event, these chairs are easily transportable and can be arranged to suit any seating arrangement.
In addition to their stunning appearance and functionality, these chairs are also incredibly versatile. They can be paired with various types of tables, linens, and decor, allowing you to create a customized look that matches your event theme or style.
When it comes to quality, our Silver Chiavari Chairs are unmatched. They undergo rigorous testing to ensure they meet the highest standards of durability and safety. You can trust that these chairs will withstand the test of time, providing reliable seating for countless events to come.
Make a statement with our Silver Chiavari Chairs and elevate the ambiance of your next event. With their exquisite design, exceptional comfort, and outstanding quality, these chairs are the perfect choice for those seeking elegance and sophistication.