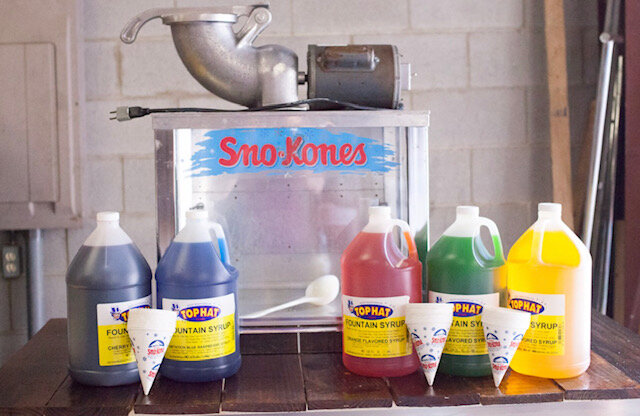 Sno Cone Machine
Snow Cone machine rental is important to any carnival in Florida. Snow cones are loved by all ages and in the Florida heat, they are simply the most perfect addition to an inflatable carnival. If you are looking for some concession options, look no further than the popcorn machine rental, cotton candy rental, and snow cone machine rental. We offer some of the best concession rentals in the area. We will bring them out and set them up for you. While setting up we can go over how each one of them works and operates. Having concession rentals is a huge money maker for those that are looking to fundraise. Everything you need is included. We highly recommend them for fundraising as they are so simple to add and really do bring in the extra cash. Carnivals should be enjoyed by all ages. When adding concessions you are adding just another reason for people to flock to your carnival. While we do offer concession rentals, there are also other amazing party rental options to choose from. Take a look around and we are certain that you will agree that we have some of the best selection of Orlando rentals in the area. Call now and let's get started on planning your next fundraiser, corporate event, community event, or backyard BBQ. Big or small, we do it all here at Florida Tents and Events. Call today and we can get you in the books for your party date. Everything will arrive on time and be delivered right to your party area.
Snow Cone machine does not come with ice.

Concessions come with servings for 25 guest. You have the option to add more during the booking process.