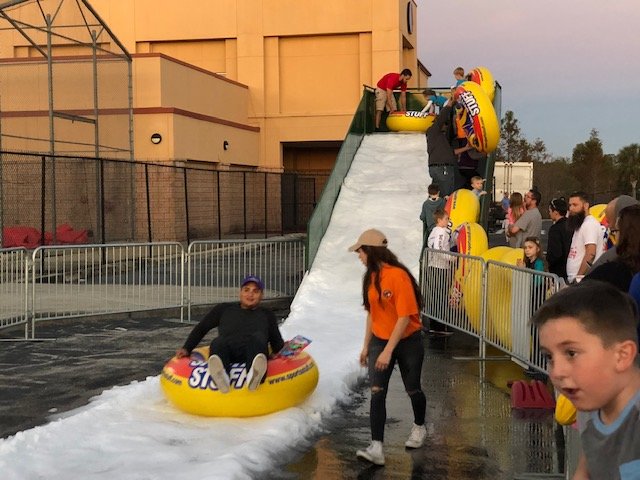 Sno Slide Experience
Please call for quote and availability.


Bring the winter wonderland to your event with a Snow Slide! This exciting slide is covered in white snow, giving you the feeling of a winter time slide experience. The Snow Slide is perfect for parties, events, and any winter-themed celebrations. With its enchanting snow-covered design, it will bring a touch of frosty magic to any setting. The slide is available for hire, so you can enjoy a winter wonderland right in your own backyard
Step into a world of snowy enchantment with our Snow Slide, where the magic of winter comes alive to transform your event into an unforgettable experience. Picture the delighted faces of children and adults alike as they embark on an exhilarating journey down the slide, surrounded by the pristine beauty of freshly fallen snow. This unique attraction brings a touch of frosty magic to any setting, creating a winter wonderland atmosphere that will be the highlight of your party, corporate gathering, or seasonal celebration.
The Snow Slide isn't just a ride; it's a gateway to a whimsical adventure. Its snow-covered design is meticulously crafted to mimic the texture and appearance of real snow, ensuring a lifelike experience for all participants. The smooth surface guarantees a safe and enjoyable ride, allowing thrill-seekers of all ages to embrace the excitement of sliding through a winter landscape. Whether you're planning a winter-themed birthday bash for the little ones or a festive corporate event, the Snow Slide promises to add that extra dash of magic that sets your occasion apart. What sets our Snow Slide apart is its versatility, making it suitable for a wide range of events.
From intimate backyard gatherings to grand winter festivals, this attraction promises to be the centerpiece of your celebration. Imagine the joyous laughter and gleeful shouts as guests make their way down the slide, creating memories that will be cherished for years to come. The Snow Slide isn't just an entertainment option; it's a transformative element that turns any space into a winter wonderland retreat. For those looking to infuse their event with a sense of novelty and wonder, the Snow Slide is available for hire, offering you the opportunity to bring the winter wonderland directly to your own backyard. The convenience of having this enchanting attraction at your chosen location eliminates the need for elaborate event planning or venue selection. It's a hassle-free way to elevate your event, providing a unique and memorable experience for your guests.
As participants slide down the Snow Slide, they'll be immersed in an atmosphere of frosty magic. The carefully curated design, complete with glistening white snow, evokes the charm of a winter paradise. The visual appeal is complemented by the tactile experience of gliding down the slide, creating a multisensory adventure that captivates the imagination. Whether your guests are young or young at heart, the Snow Slide offers a universal appeal that transcends age barriers. In conclusion, the Snow Slide is more than just an attraction; it's a gateway to a winter wonderland, a focal point that transforms ordinary events into extraordinary experiences.
Contact us now to inquire about availability, pricing, and booking details. Don't miss the chance to turn your upcoming gathering into a snowy spectacle filled with laughter, joy, and memories that will be cherished for a lifetime.