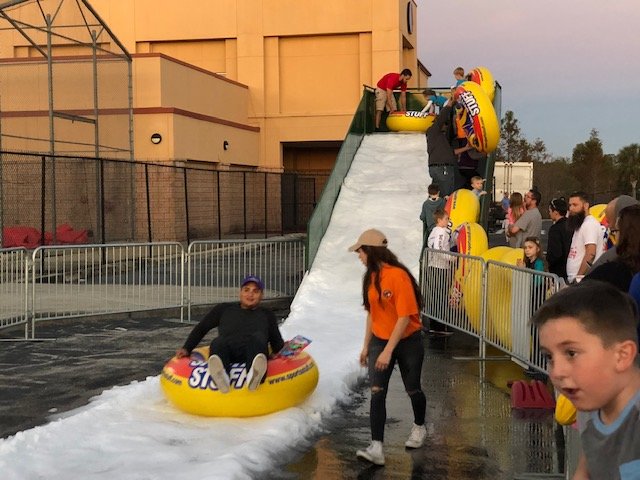 Sno Slide Experience
Snow Slide Rental Experience
Snow slide rental is extremely unique for the Orlando area. If you are looking to really put the WOW factor into your next event then you have found it. Our snow slide rental is a wonderful option for those that have a lot of people coming out to have a little fun. This is a unique rental that many really don't expect to see here in Florida. However, we offer to you the snow slide rental experience. We work with groups of all sizes to give them the experiences that they wouldn't otherwise have in life. After all, it is not every day you see snow in Florida. Some kids here have never actually seen the real thing. Bring those kids an experience that they will never forget with our snow slide rental today.
We work large corporations as well as smaller community events, we can even offer you the snow slide rental in your backyard. Yes, you can have this amazing machine set up right in your backyard. We work with our clients to get everything set up properly and safely. Our team of experts will arrive on time and far before any of your guests arrive to ensure that you are ready for the unveiling. Our snow slide rental is thoroughly cleaned after each as well as inspected. This ensures that everything is in top working order for the next time someone orders up a snow slide rental experience for themselves.
Let's get this party started
We not only offer the snow slide rental experience but have an entire carnival in our warehouse. There are concession rentals, inflatable rentals, bounce house rentals, and water slide rentals. Imagine having a snow run set up next to a water slide? That's just how crazy our rental selection is! We even have people for rent, should you need an Easter bunny or maybe some help to run your carnival. Not a problem.
Our carnivals are set up quickly and safely. We carry business insurance and have the rentals inspected and certified by the state. Florida Tents and Events are the professionals and not just some guy in a truck. We work hard to bring you the very best party rental selection in all of Orlando and if a snow slide rental doesn't prove that, we don't know what does.
Grab a tube and let's go!
A Snow slide rental is a fun rental for all ages. Grab a tube and let's get to sliding. This is something that the kids just marvel at and for good reason, many haven't ever seen snow. The snow slide rental is a wonderful addition to any carnival and schools love it as well.
Take your time to browse the website and see what you can add to your snow slide rental experience. Maybe some concessions would be a great addition. Climbing up the stairs and all the giggles can make one hungry. We have popcorn machines and cotton candy rentals too. Let's get your party going in the right direction with a snow slide rental today.