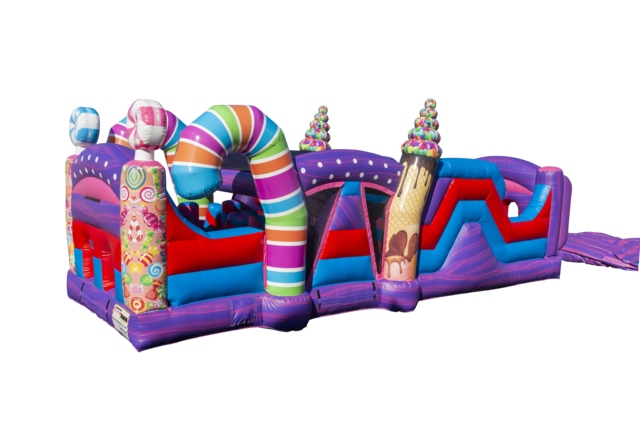 Sugar Shack Obstacle Course
Setup Area: 32L X 10W X 12H
Outlets: 1
Age Group: All Ages
Attendants: 1




Creating an obstacle course around the theme of a "Sugar Shack" is a unique and entertaining concept that combines the thrill of physical challenges with the whimsical sweetness of a sugar-inspired environment. An obstacle course traditionally brings to mind images of mud, ropes, and tires, but a Sugar Shack Obstacle Course turns the ordinary into the extraordinary, infusing a playful and delightful atmosphere into the experience.
The very notion of a Sugar Shack suggests a place of indulgence and delight, often associated with sweet treats and confections. Imagine participants navigating through a course adorned with candy-colored obstacles, reminiscent of a Willy Wonka wonderland. Picture oversized lollipops serving as hurdles, gummy bear pit stops, and licorice rope swings. The course becomes a sensory feast, engaging not only the body but also the imagination.
One of the primary draws of a Sugar Shack Obstacle Course lies in its ability to appeal to a wide audience. Unlike traditional obstacle courses that might be intimidating for some, this theme introduces an element of fun that can attract participants of all ages and fitness levels. Children can revel in the excitement of a candy-themed adventure, while adults can unleash their inner child and embrace the nostalgia of a sugar-filled world. It's an inclusive and family-friendly event that promotes camaraderie and shared joy.
The course design itself can be a testament to creativity and innovation. Obstacles can be crafted to resemble iconic sweets, challenging participants to navigate their way through a maze of candy cane arches, dodge towering lollipop hurdles, and crawl through tunnels resembling giant gumdrops. Each station becomes a mini-adventure, incorporating both physical and mental challenges that keep participants engaged and entertained throughout the course.
In addition to the physical challenges, event organizers can enhance the entertainment factor by incorporating interactive elements. Picture a station where participants have to correctly guess the number of jellybeans in a jar before moving on to the next obstacle or a trivia challenge related to candy history. These elements add layers of amusement, ensuring that the experience goes beyond the physical exertion and becomes a holistic entertainment package.
Furthermore, the aesthetics of the Sugar Shack Obstacle Course contribute significantly to its entertainment value. Vibrant colors, whimsical decorations, and the sweet scent of sugar in the air create a visually stunning and immersive environment. Participants find themselves transported into a fantasy world where the ordinary rules of an obstacle course are transformed into a sugary spectacle.
The entertainment factor is not limited to the participants alone; spectators can also revel in the joyous atmosphere. Friends and family can cheer on their loved ones as they conquer candy-inspired challenges, adding to the overall festive ambiance. The event becomes a celebration of both individual achievement and collective enjoyment.
In conclusion, a Sugar Shack Obstacle Course is a captivating blend of physical challenges and sweet indulgence. It has the power to engage participants of all ages, offering a unique and entertaining experience that goes beyond the typical obstacle course. From the creative course design to interactive elements and the visual feast of a candy wonderland, every aspect contributes to making this theme an exceptional and memorable source of entertainment.