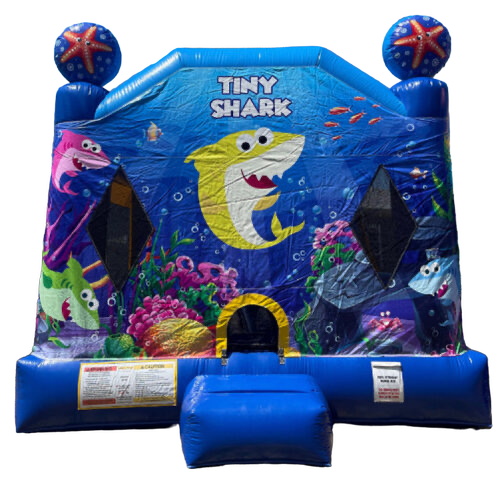 Tiny Shark Bounce House
Rent the Tiny Shark Bouncy House for your next party!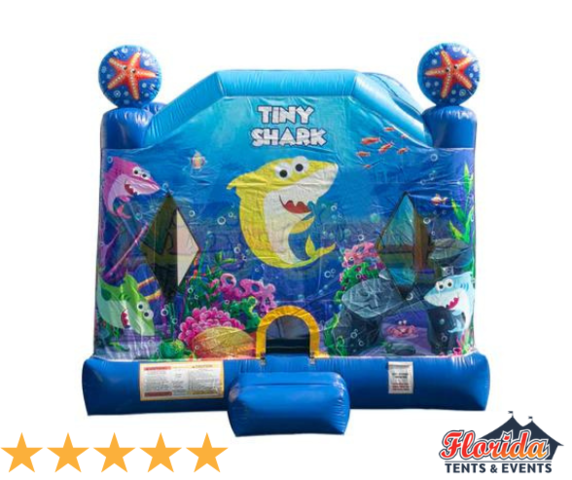 The Tiny Shark Bounce House is perfect for fun all year long with the cute little baby shark in the middle and all of his friends! Who can resist this cute interactive sea inflatable bounce house with the ocean and little friendly sharks, coral, and cute starfish? The colorful and bright bounce house is perfect for backyard parties, birthday parties, first birthday celebrations, neighborhood get together, summer parties, family gatherings, and just about anywhere that you want to entertain kids.
The tiny shark bounce house features 360-degree mesh windows, also parents, spectators and kids can see all the fun. The safety bumper entrance allows for kids to reach the entrance easier and the netted entrance that stretches open makes it easy for kids to get in/out while keeping the entrance closed for safety! The bounce house offers a bouncing space of a 16 x 14 area making it perfect for those larger parties to have fun and enjoy the day with. If you are interested in booking the baby shark bounce house give our office a call at 407-777-4776, or book online via our online booking software. The baby tiny shark jump house is perfect for ages 1-15 years of age. Great for both kids who love the ocean, sharks, coral, and the tv show baby shark, and pairs great with our Table & Chairs, along with our carnival game rentals. Our Gone Fishing Game Rental, Fish in the bowl Bin Game Rental, and of course our Shark Bounce House with Slide are great pairings with this ocean-theme party rental.