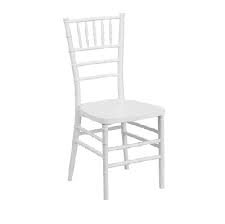 White Chiavari Chairs
Renting white Chiavari chairs for your formal event is a great choice as they add a touch of elegance and sophistication to any occasion. Florida Tents and Events is the perfect choice for your rental needs in Central Florida, as they have an experienced team and offer delivery services to a large area in the region.
When planning your rental with Florida Tents and Events, consider the following steps:
1. Contact Florida Tents and Events: Reach out to their customer service or visit their website to inquire about their Chiavari chair rental options and availability. Make sure to discuss the details of your event, such as the date, location, and the number of chairs needed.
2. Choose White Chiavari Chairs: Confirm that they offer white Chiavari chairs, as they are a popular choice for formal events due to their timeless and classy appearance.
3. Verify Delivery Coverage: Ensure that they can deliver to your specific event location in Central Florida. Florida Tents and Events should be able to provide you with a list of areas they cover for delivery.
4. Check Rental Terms: Discuss the rental duration, pricing, and any other terms and conditions with the company. Make sure you understand the rental agreement and payment procedures.
5. Plan Ahead: Since Chiavari chairs are in demand for formal events, it's advisable to make your reservation well in advance to secure your rental and avoid last-minute availability issues.
6. Consider Additional Services: Inquire if Florida Tents and Events offer any additional services, such as setting up the chairs at your event venue. This can be especially helpful, as Chiavari chairs require proper arrangement for a polished look.
7. Finalize the Order: Once you are satisfied with the terms and services offered, confirm your rental order with Florida Tents and Events. Provide them with all the necessary details and any specific instructions for delivery and setup.
Remember to keep communication lines open with Florida Tents and Events throughout the process to ensure a smooth and successful rental experience. With their expertise and delivery coverage in Central Florida, you can focus on other aspects of your event, knowing that your seating arrangements are in capable hands. Enjoy your formal event with the added touch of elegance provided by the white Chiavari chairs!